Tasty Dolma
by Editorial Staff
Several reasons prompted me to write about dolma again. The first reason was, of course, my unceasing love for dolma, which I consider one of the delicious dishes of all times and peoples. Another reason is the holidays, with their plentiful meals and libations. Dolma is quite a worthy candidate for decorating a festive table. Well, and finally, I know that not everyone can imagine in detail how to cook dolma, especially the algorithm for wrapping minced meat in leaves. I promised to show – and now, I show, although this led to a huge number of photos, so do not swear at me. 🙂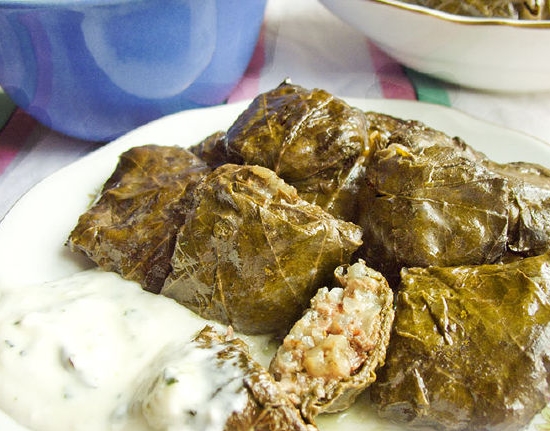 Ingredients
Grape leaves – 100-150 pcs.
Lamb (leg of lamb and a piece of the neck with part of the back and ribs) – 1-1.2 kg of meat +
bones for cooking broth
Onions – 4 pcs.
Rice – 3 tbsp
Frying oil – 2 tbsp
Black pepper – 1 teaspoon
Coriander (seeds) – 0.5 teaspoon
Zira – 0.5 teaspoon
Salt to taste
Cilantro – 1 bunch
Parsley – 1 bunch
Tarragon – 0.5 bunch
Mint – 1 bunch
For the sauce:
Matsoni (or kefir) – 1 glass
Garlic – 4-5 cloves
Mint leaves – 0.5 bunch
Cinnamon (optional) – on the tip of a knife
Salt to taste
Directions
Cooking dolma begins with the selection of meat. I was lucky – I bought a beautiful leg of lamb and a piece of neck with a part of the back and ribs.

Dolma leaves were prudently purchased in the summer and immediately frozen in bags.
I carefully cut the meat from the neck, and left the bones to cook the broth. A part was also cut off from the leg, so that the total weight of pure meat was about two hundred kilos.
He fried the bones in a pressure cooker until golden brown – almost without oil, and then poured them with half a liter of water and cooked them in a pressure cooker for an hour. It turned out to be a very rich broth.
In the meantime, he began to prepare the minced meat. The meat was cut into strips with a sharp knife, before that the meat was kept in the refrigerator for easy cutting. I cut the strips across into rather small pieces.
Here I must stop and make a separate comment on the methods of preparing minced meat. Minced meat can be done in two main ways: manually – with knives, hatchets or something else similar, or using a meat grinder. Both methods have their own advantages and their own limitations. The meat grinder is convenient, grinds meat quickly and does not require special skills. But if you have a low-power meat grinder, its knives are dull and not ground to the surface of the grate, then it crumples the meat, squeezing out the last juices from it. At the same time, sharply sharpened knives or hatchets perfectly chop meat into small pieces, without destroying its structure and keeping all the juices inside. However, here it is also necessary to monitor the sharpness of the instrument, because it is almost impossible to chop meat with a blunt knife and you can get hurt yourself. In addition, chopping knives should be massive, it is better to have a hatchet or even two for this, and you also need experience in chopping on a rather heavy wooden board. Chopping with knives is twice as long as chopping with a meat grinder, but it's worth it.I had only one hatchet, I sharpened it to a state close to a razor, chopped it in small portions and quickly chopped the meat into small peas. 🙂
In a spacious bowl I collected all the components of the minced meat. Chopped meat, finely chopped onions (two medium onions), a tablespoon of salt, onions fried in oil (also two onions) – I like to add such and such an onion to chopped meat – it gives its own taste, greens – cilantro, parsley, a little tarragon and mint – the amount here is not limited (within reasonable limits) and the components too, but there should be mint in the meat. 🙂
From spices – half a teaspoon of coriander (seeds), a teaspoon of black pepper, half a teaspoon of cumin – all this was not ground too finely in a coffee grinder (there is also freedom for your imagination and preferences).
Well, at the end of the rice – I put three tablespoons of basmati, but other rice may well participate in this concert. I did not boil rice, experience shows that during cooking rice in dolma is completely boiled down to a soft state. Instead of rice, you can put peas or lentils, which will also be good. Or you can not put rice at all – I sometimes make minced meat without rice.
The mixture is thoroughly mixed until it is completely even, I added two tablespoons of cold soda water for easier mixing. Here the enjoyment of the aromas of this mixture of meat, herbs and spices already begins! This aroma adds enthusiasm before the tedious procedure of filling and wrapping one and a half hundred leaves. 🙂
The dolma leaves were taken out of the freezer last night and put in the refrigerator to thaw. During the night they thawed out, acquired elasticity and can now be safely put into a basin and rinsed with warm water – two changes are enough to wash off the dust from the leaves. If you have pickled leaves from the market, then pour boiling water over them and hold for about 10 minutes, if the barrel spirit remains, repeat the procedure. Sometimes fresh leaves of high acidity come across – soak them in hot water for a while to remove excess acid.
After all this, the leaves are laid out in a colander and time is given for the water to leave them. Each leaf undergoes a simple cutting operation because the cuttings are inedible.
So, the sheet is placed on the board with the side with the most prominent veins up and about a dessert spoon of minced meat is placed on it. There is no need to be zealous, there should be enough minced meat so that you can easily wrap the sheet in a stable bag. Leaves are of different sizes, accordingly, it is necessary to change the amount of minced meat per dolmushka. It is best not to use large leaves – they are rather coarse (I call large leaves about one and a half male palms in size).
Small leaves are good, but it takes some honed skill to wrap them up – maybe someday … 🙂
We begin the process of wrapping minced meat in a sheet. I know three main ways of wrapping dolma: in a pentagonal envelope, in a roller and in a bag.
I am an adherent of the pentagon, although I have nothing against other forms of wrapping.
So here I will show you how to wrap exactly the pentagon. After the minced meat is placed on the sheet, crush it so that it does not crumble and wrap the lower left part of the sheet over it. Do not be afraid, the sheet will not unfold, it is quite elastic and will stick well to the minced meat.
In the same way, overlap the lower right part of the sheet, press it with your palm for reliability.
Now it's the turn of the left side.
Likewise for the right side.
We bend the top of the sheet, covering all the previous folds with it, and turn the pentagon over to the opposite side. In this position (seams down), but it and all the other dolmushki into a cooking pot.
It looks like a pan with dolma laid in it. This is reminiscent of a Lego game – do not leave empty spaces, fill them with dolmushki of suitable size.
Now the matter is coming to an end – we fill in the pre-cooked broth along the wall (if it is still not there, pour in plain water, it's like in the proverb: for lack of a stamp, we write in simple one), you don't need to pour a lot of liquid, up to about half the height of the dolma in a pan … During the cooking process, part of the moisture will be released from the minced meat and the dolma will be cooked in this mixture. You don't need to add salt, pepper, sour cream, or butter – everything is already in the minced meat itself and it will give all its tastes and aromas to the broth.
Now close the saucepan with a tight lid and put on a low heat. Sometimes it is advised to cover the dolma with a plate so that it does not float. If you do not pour the broth to the top, the dolma will not float. I do not cover, but if you are concerned, cover it, it will not get any worse. After about half an hour, the liquid will begin to boil – you will feel it by the unbearable aroma in the apartment, reduce the heat to very low and leave for at least an hour. If you want the leaves to become absolutely tender and melt in your mouth, continue to cook the dolma for another half hour.
Let's leave the pan of dolma alone for a while and start making the traditional dolma sauce. Cut the garlic into pieces and place it in a mortar (I have a ceramic bowl), cut off the mint leaves in the same place, pour in a little coarse salt, and crush and grind it all until we get a thick mass, which must be diluted with a glass of yogurt (at worst with kefir – again we write in simple!). The amount of ingredients can be varied, do not overdo it only with salt, dolma already has it.
The resulting mixture must be left to infuse. Generally speaking, if you are already going to make dolma, then it is best if you make this dolma sauce in advance, about a day in advance, and put it in the refrigerator to rest. This will add strength and vigor to the sauce, especially for the garlic component.
The allotted time passed and the dolma was cooked. The broth is visible, which has become a little more than when pouring – moisture has come out of the minced meat and onions, and although the rice absorbs it, there is still quite a lot of it. If your dolma is left to cool completely, about half of the broth will be absorbed by the dolma and they will become even juicier.

When serving, sprinkle dolma with broth and place yogurt and garlic in a plate. You will get a very tasty liquid, which will be pleasant to soak with soft bread along with fragrant dolma. 🙂
And I wish you Bon appetite and enjoy this simple food! 🙂
Also Like
Comments for "Tasty Dolma"