Minced lamb with spices, rice, and fat tail fat, wrapped in grape leaves – all this is simmered over low heat, and the result is that very, unique, very tasty, and aromatic dolma. And no matter how much eminent chefs argue about the origin of this culinary miracle, the main thing for us is that the whole truth is in dolma. It remains only to cook to be sure of this.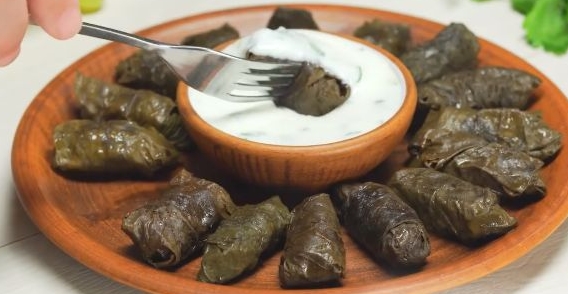 Cook: 1 hour 50 minutes (yours 1 hour )
Servings: 10 servings
Ingredients
Grape leaves – 220 g
Minced lamb – 700 g
Fat tail fat – 100 g
Onions – 350 g
Butter – 50 g + for frying onions
Rice – 100 g
Salt – 2 teaspoon
Garlic – 4 cloves
Ground black pepper – 1/2 teaspoon.
Ground red chili pepper – 1/2 teaspoon.
Dried mint – 1 teaspoon
Hops-surely – 1/2 teaspoon
Cilantro greens – 10 g
Parsley greens – 20 g
Dill greens – 20 g
Water – 300 ml (for minced meat) and 1
For the sauce:
Matsoni or homemade yogurt – 300 ml
Garlic – 4 cloves
Parsley – 5 g
Cilantro greens – 5 g
Directions
Boil rice for 5 minutes, then rinse in cold water (rice must be undercooked).

Finely chop the fat tail fat, herbs and onions.
Fry the onions in butter for 5 minutes over low heat. Cool down.
Add rice, fried onions, fat tail fat, herbs, 1 teaspoon to the minced meat. salt, black pepper, suneli hops, red pepper, mint. Gradually add 300 ml of water, kneading the minced meat thoroughly with your hands for 8 minutes.
Put the grape leaf with the glossy side on the board, and the rough (matte) side up. Put 1 teaspoon at the base of the sheet. cooked minced meat and roll the grape leaf with the filling into a tight tube, turning the edges of the leaf inward.
Place an upside-down plate on the bottom of the pot and place the dolma in the pot, seam down in a circle.
Spread dolma in several layers.
Top with a few slices of butter and the remaining grape leaves.
Press down with an inverted plate. Pour 1 teaspoon on a plate. salt and pour 1 liter of water. The water should be at the same level as the dolma or 1 cm lower. Bring to a boil over medium heat and simmer dolma with the lid closed over low heat for 1 hour. If the grape leaves are tough, continue simmering the dolma for another 30-40 minutes, until tender.

Prepare the sauce: finely chop the parsley and cilantro, chop the garlic and add everything to the yogurt. Let it brew for 30 minutes.
When dolma is ready, turn off the heat, remove the plate and grape leaves, which were placed on top, and let stand for 15 minutes. Serve dolma with sauce.
Enjoy your meal!
Also Like
Comments for "Dolma"