Dolma by Your Own Recipe
by Editorial Staff
I want to share with you the recipe for dolma, according to which I prepare it. Dolma turns out to be absolutely wrong – without rice and in a strange sauce, but it seems that those who ate liked it.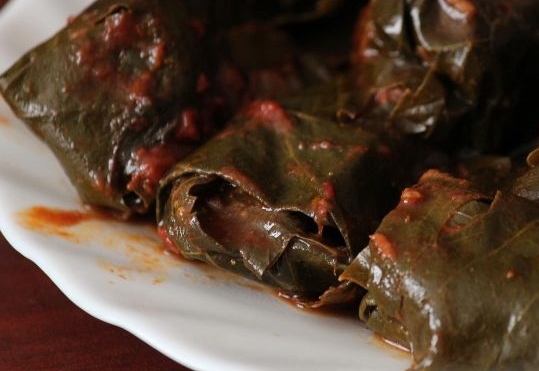 Servings: 10
Ingredients
lamb – about 3 kg
grape leaves – about 1 kg
parsley – 1 large bunch
cilantro – 1 large bunch
basil – 1 bunch
hot peppers – 3-4 pcs.
Generally – to taste.
onion – 2 large onions
garlic – 6-7 cloves, as little as possible
dry adjika – a few spoons
tomato paste (good!) – about 700 ml
spices: cumin, black pepper, red pepper (chili), salt
Directions
We take the meat and cut it into minced meat – cubes with a side of 0.5 cm are good. Those who have hatchets – good, I can do an excellent job with a very sharp knife for an hour and a half, and then slowly and distractedly.
You can read how to do this correctly in LJ or on the iqmena website – if you follow her advice, everything turns out quickly and easily. The meat grinder is in the trash, the food processor is in the ass! I understood this very well when I first tried minced meat dishes.
We cut out the bones and veins – it will be great for the sherpa, we make sure that there is a lot of fat in the minced meat – from 1/4 to 1/3.
Grate the onion on a beetroot grater – you can cut it, but I like it better. Stir in the minced meat. Chop cilantro and parsley very finely (thanks to my beloved husband, I don't know how to chop like that!), Add half of the resulting volume to the minced meat. Salt, pepper with both peppers, crush a lot of cumin (I added 2 heaped tablespoons) and add it there. Knead the minced meat thoroughly and thoughtfully.
Rinse the leaves and let them drain. We carefully cover the bottom and sides of the vessel (do not save, otherwise the dolma will burn!) And twist the dolma.
Here I have a peculiarity – I wrap a very small amount of minced meat in a sheet because lamb tastes bright, and itself is fatty, therefore, unlike dolma from ready-made minced meat, there are many times more leaves here.
We fold the tiny "dolminks" and lay them out in layers in a cauldron or pan.
Cooking sauce, dressing, I don't know what to call … In general, what it will be stewed in. My advice from personal experience is to prepare the sauce in advance, otherwise, you will get so worried about dolma that you will not have the strength for it.
Add dry adjika to the tomato paste – it is better to taste it a little, and remember that after heat treatment it will burn even more. The remaining half of the cilantro and parsley, all the basil, chopped not as finely as the cilantro, finely chopped peppers without partitions and seeds, and garlic, also chopped into porridge, go there. Salt, add chili to taste (for fire-eaters like me), and dilute with boiled water to the consistency of liquid tomato juice (as they used to sell in glass jars, it would be like this, you could just take it).
Fill the dolma so that it is covered by 2 centimeters and put on fire.
50 minutes on medium / low heat is enough. Leave to rise under the lid. In the morning it will be the very thing – it is most delicious to eat warmed up, not hot.
As you can see, nothing too complicated, but very tasty! :))
Also Like
Comments for "Dolma by Your Own Recipe"