Cook to Your Health and Enjoy!
by Editorial Staff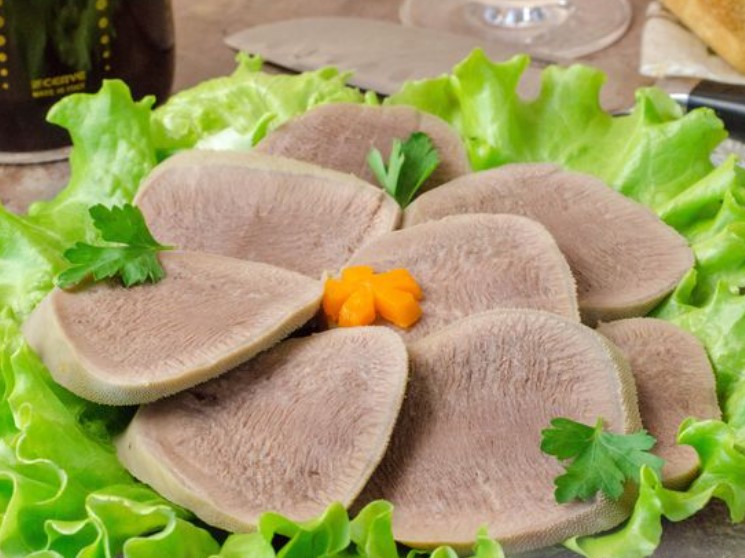 Beef tongue is a real delicacy that is perfect as an independent snack on a festive table or used to prepare salads. Cooking beef tongue is easy, but time-consuming, so be patient. Believe me, the taste of tender and juicy boiled beef tongue is worth it.
Cook: 3 hours 40 mins
Ingredients
Beef tongue – 1 pc. (1.2 kg)
Carrots – 200 g (2 pcs.)
Onions – 500 g (3 pcs.)
Black peppercorns – 10-12 pcs.
Bay leaf – 5 pcs.
Salt – 2 tbsp
Fresh herbs for serving (optional) – to taste
Directions
We prepare the necessary products.

We wash the beef tongue very thoroughly. Fill with cold water and leave for 30 minutes. After soaking, rinse the tongue thoroughly again.
Pour water (2-2.5 l) into a saucepan and put on heat, bring water to a boil.
We immerse our tongue in boiling water.
After boiling, cook the tongue over medium heat for 20 minutes. In parallel, in a kettle or other saucepan, bring another 2-2.5 liters of water to a boil.
We drain the water in which the tongue was boiled. We wash the pan. Pour the tongue with 2-2.5 liters of boiling water. We put on heat, bring to a boil and cook for 1 hour. The fire should be slightly below average.
Peel the onions and carrots. Cut the bulbs in half.
We send onions, carrots, bay leaves and black peppercorns to the boiling broth. Cook the tongue for another 20-25 minutes.
Add salt and continue cooking for another 30 minutes.

We take out the tongue from the broth and immerse it in a bowl of very cold water for 7-8 minutes. Leave the broth with vegetables on the stove.
We take out the tongue from a bowl of cold water and clean it.
Due to the temperature difference, the skin from the tongue is easily removed.
Immerse the peeled tongue in the broth and cook over low heat for another 15-20 minutes. Turn off the heat and leave the tongue in the broth until it cools completely.
Cut the finished beef tongue into slices or use it to prepare other dishes.
Decorate the boiled beef tongue with herbs if desired and serve.
Bon Appetit!
Also Like
Comments for "Cook to Your Health and Enjoy!"