Adobo Chicken from the Philippines
by Editorial Staff
For Filipinos, adobo is the same common and favorite dish as borscht is for us. And in the same way, each housewife has her own secret and her own zest of this dish. Despite the fact that the dish comes from the Philippines, all products are everyday, those to which we are accustomed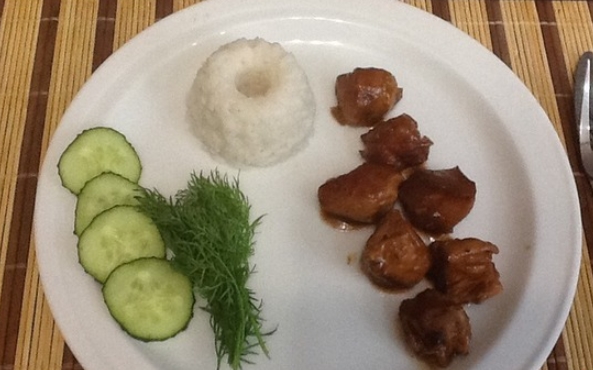 Cook: 50 mins
Ingredients
Chicken – 1 piece
Soy sauce – 150 g
Vinegar – 100 g
Water – 200 g
Bay leaf – 7 pieces
Corn starch – 1 tablespoon. l.
Black pepper – 1 teaspoon.
Sweet paprika – 1 tablespoon l.
Bulb onion – 1 piece
Garlic – 1
Salt
Directions
Cut the chicken. We need legs and pulp. Cut into small pieces.
Finely chop the onion. Fry lightly in vegetable oil. Chop the garlic finely and sauté with onion quite a bit.
Put the chicken in the same pan.
Add water, vinegar, soy sauce, bay leaf and paprika immediately. The sauce should cover the chicken almost completely.
Bring to a boil and under a closed lid over low heat, cook the chicken until tender in this sauce for 20-25 minutes. Turn the pieces over from time to time.
When the chicken is ready, take it out of the sauce. And fry in another pan until golden brown.
Do not turn off the sauce in another pan. Remove the lid and let it boil down a little.
Next, return the already fried chicken back to the pan with the sauce. Add thickening starch. In 5 minutes our dish is ready.
The dish comes out very juicy. Serve with rice and sauce. Enjoy your meal.
Also Like
Comments for "Adobo Chicken from the Philippines"