Chicken in Adobo Sauce
by Editorial Staff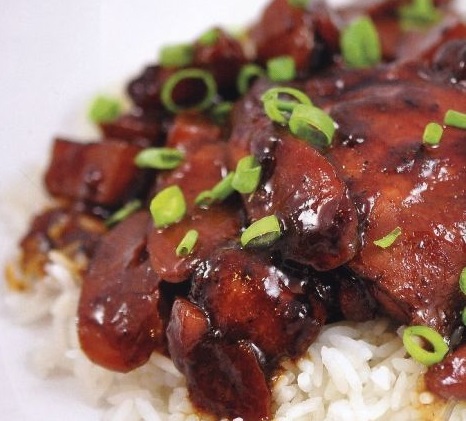 Chicken thighs in an unmatched adobo sauce go well with a rice side dish. A good option for a hearty dinner.
Ingredients
Chicken thighs – 8 pcs.
Rice or white wine vinegar – 3/4 cup
Soy sauce – 0.25 cups
Garlic – 2 cloves
Ground black pepper – 0.5 teaspoon
Bay leaf – 2 pcs.
Vegetable oil – 2 tbsp
Medium potatoes – 2 pcs.
Medium carrots – 4 pcs.
Rice – 2 cups
Salt – 1 pinch
Water – 1 tbsp
Starch – 2 teaspoon
Directions
Cut off excess fat from the thighs.
In a glass bowl, combine the vinegar, soy sauce, garlic, pepper, and bay leaf. Place chicken thighs in a bowl and stir. Cover with cling film, place in the refrigerator for 30 minutes, or better overnight.
Remove chicken from marinade, pat dry with a paper towel. Do not pour out the marinade.
Pour vegetable oil into a large cast-iron saucepan (cauldron), heat over medium heat. Place a few chicken thighs and fry until golden brown. Put on a plate, fry the rest of the chicken.
Transfer all fried chicken back to the pan. Peel and dice the potatoes. Put in a saucepan with chicken. Peel and cut the carrots into slices and place in a saucepan. Pour marinade and 3/4 cup water, bring to a boil. Reduce heat, simmer meat and vegetables for about 45 minutes.
Pour rice into a saucepan, pour 4 glasses of water, salt. Bring water to a boil, cover the pan with a lid, reduce heat, cook for about 20 minutes, until the liquid evaporates.
Remove the bay leaf from the chicken pan. Dissolve the starch in a spoonful of water, pour this mass into a saucepan with chicken thighs. Stir well, cook for about 2 minutes, stirring occasionally.
Bon Appetit!
Also Like
Comments for "Chicken in Adobo Sauce"