Couscous with Eggplant
by Editorial Staff
Delicate, crumbly couscous with eggplant and other vegetables will please everyone without exception. It will make a wonderful lunch or dinner and will perfectly diversify your table during the fast.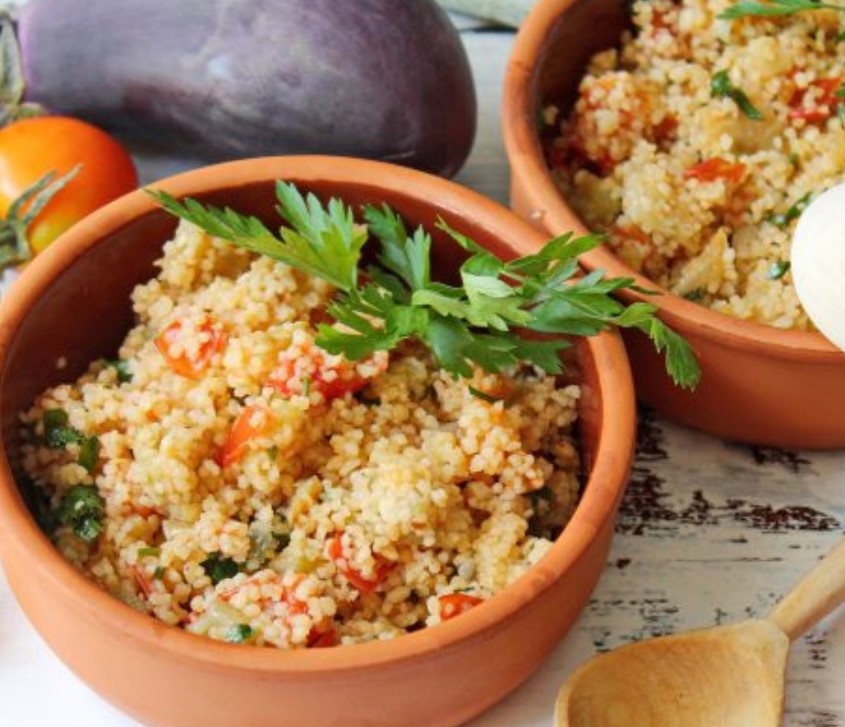 Cook: 50 mins
Servings: 2
Ingredients
Couscous – 1/2 Cup
Eggplant – 150 Grams
Tomato – 100 Grams
Coriander – To taste
Salt – To taste
Black pepper – To taste
Zira – To taste
Bulb onion – 50 Grams
Garlic – 2 Cloves
Water – 1/2 Glass
Vegetable oil – 2 tbsp
Parsley – To taste
Directions
Prepare all the ingredients you need to make your eggplant couscous. Wash and dry the vegetables.

Peel the eggplant, cut into medium cubes and place in a deep bowl. Season the eggplant with salt and cold water. Stir and let sit for 30 minutes. Then discard them in a colander and rinse with clean water. Let the water drain completely.
Peel and finely chop the onions and garlic. Pour vegetable oil into a frying pan, heat over medium heat and add chopped garlic and onion.
Stir the vegetables for 7 minutes over medium heat. Add pepper, cumin, coriander and stir.
Cut the tomato into large cubes and place in a pan with fried vegetables and spices. Simmer everything for 5 minutes.
Add chopped eggplants to the pan and simmer for 7-10 minutes, until the eggplant is cooked, stirring.
Pour in water, salt and pepper and bring to a boil. Remove skillet from heat.

Pour the couscous into the skillet, stir and cover. Leave everything to infuse for 10 minutes.
Remove the lid, add the finely chopped parsley, stir and serve.
Bon Appetit!
Also Like
Comments for "Couscous with Eggplant"