Couscous Salad
by Editorial Staff
My wife loves couscous salad. Delicious and satisfying, it is perfect for fasting days. I add fresh vegetables to it, as well as sun-dried tomatoes, peanuts and raisins. Real jam!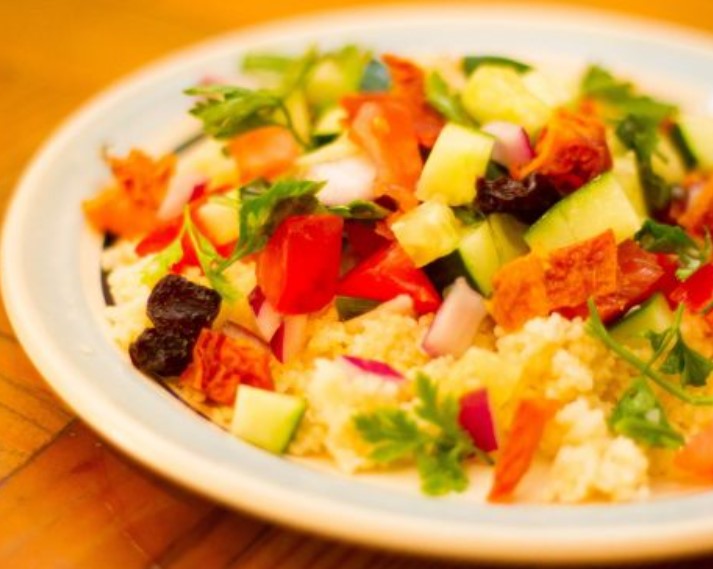 Cook: 20 mins
Servings: 3-4
Ingredients
Couscous – 400-500 Grams
Red onion – 1 Piece
Olive oil – 5 Tbsp spoons
Boiling water – 400 Milliliters
Peanuts – 120 Grams
Dried apricots – 120 Grams
Raisins – 120 Grams
Sun-dried tomatoes – 200 Grams
Cucumber – 0.5 Pieces (If not long, then you can whole.)
Lemons – 2 Pieces
A bunch of cilantro – 1 Piece (Small.)
Salt – To taste
Ground black pepper – To taste
Directions
Pour boiling water over the couscous. Cover with a lid. It will infuse and swell in just 5 minutes. If you decide to cook it, keep it in water for no longer than two minutes. And you need enough water to just cover the bite.
Finely chop the red onion and cilantro. Peel the bell peppers and cut into small pieces. Chop the cucumber also finely. Chop dried apricots, raisins, sun-dried tomatoes and peanuts. Combine them first in a separate cup, then add to fresh vegetables.

When the couscous is ready, add vegetables to it, with peanuts and dried fruits, add olive oil. Season with salt, pepper and stir.
Pour the prepared salad with freshly squeezed lemon juice.
Bon Appetit.
Also Like
Comments for "Couscous Salad"