Eggplant Moussaka with Rice
by Editorial Staff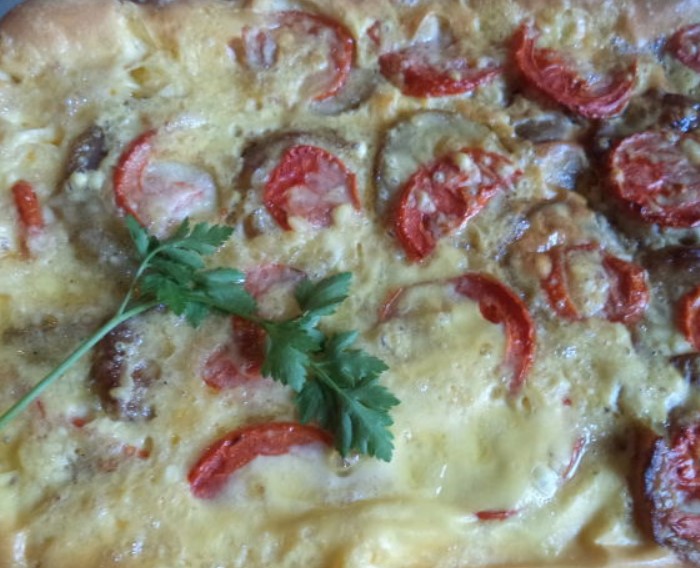 Traditionally, in Greek cuisine, as well as in some other countries, moussaka with eggplant is a meat dish. According to this recipe, the Bulgarian moussaka with eggplants and tomatoes is prepared without meat, but with rice.
Cook: 1 hour 30 min
Servings: 6
Ingredients
Eggplant – 1 kg
Onions – 2-3 pcs.
Rice – 100 g
Tomatoes – 4 pcs.
Vegetable oil – 150 g
Eggs – 3 pcs.
Flour – 2 tbsp
Milk – 1.5 cups
Salt – 1 teaspoon (to taste)
Directions
Moussaka products with eggplant and rice.
Rinse the rice in cold water.
Peel, wash, cut the eggplants into circles (or slices).
Peel the onion, wash, chop finely.
Preheat a frying pan, pour 3 tablespoon. tablespoons of vegetable oil. Put the eggplants in hot oil, without salt. Fry on very hot fat until golden brown on one side (1-2 minutes). Then fry in the same way on the other side. So fry all the eggplants, add oil as needed.
Preheat another skillet separately. Pour 2-3 tablespoon. tablespoons of vegetable oil. Put prepared onions in hot oil. Fry finely chopped onions over medium heat until soft (1-2 minutes).
When the onion is soft, add the washed rice.

Then lightly fry it, stirring occasionally, (about 1 minute).
Then pour in 1.5 cups of water, salt and keep on low heat until the rice has absorbed the water (about 10 minutes). Turn on the oven.
Wash tomatoes, cut into circles or slices.
Lightly grease the bottom of a wide baking dish, casserole or rooster.
Put the tomato slices in it.
Then fried eggplants.
Further on them – fig.
Spread the rest of the eggplants evenly over the rice.

Cover the eggplants with tomato slices again, add a little salt.
Then the eggplant moussaka is baked in the oven for 20-30 minutes at a temperature of 190 degrees.
Beat eggs with milk and flour.
Pour the egg mass over the moussaka.
Place the moussaka with rice and eggplant in the oven again until the egg-milk mixture is baked (about 15-20 minutes).
Eggplant moussaka with rice is ready.

Enjoy your meal!
Also Like
Comments for "Eggplant Moussaka with Rice"