Moussaka with Minced Meat, Eggplant, Tomatoes
by Editorial Staff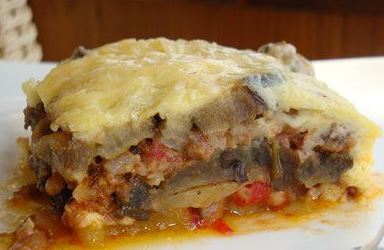 Delicious! Who loves, of course, such a thing;)
Ingredients
Medium eggplants – 2 pcs.
Minced meat (I have lamb) – 0.5 kg
Medium onions – 2 pcs.
Garlic – 2 teeth
Tomatoes (pureed) – 500 g
Potatoes (optional)
Cinnamon – 1 teaspoon
Dried oregano (I have 1 tablespoon fresh) – 1 teaspoon
Dry red wine – 1/3 cup
Salt
Pepper
Vegetable oil
For the sauce:
Butter – 60 g
Flour – 1/4 cup
Milk – 400 ml
Eggs – 3 pcs.
Grated parmigiano cheese (parmesan) – 60 g
Directions
Preheat the oven to 190-200 degrees.
Cut the eggplants into circles slightly less than half a centimeter thick (I cut centimeter ones), salt, set aside for 30-40 minutes (20 minutes was enough)). Brush off the tears that have come out with a paper towel spread the eggplants on a baking sheet, and bake in the oven (about 10 minutes) (lightly fried in a pan, in a very small amount of vegetable oil)).
Peel the onion and garlic, chop finely, fry in a heavy-bottomed saucepan over medium heat until the onion is soft (about 3 minutes). Add minced meat, fry, stirring constantly, about 5 minutes. Add tomatoes, wine, oregano (added at the very end), cinnamon, salt, pepper. Stir well, bring to a boil, reduce heat, and cook, covered, for 20-25 minutes (I – 15 minutes).
Melt the butter, gently whisk in the flour. Cook for about 1-2 minutes (counting down for seconds).
Gradually pour in the milk, stirring well. While stirring, cook for about 3-5 minutes. Beat eggs a little with 1-2 tablespoons. the resulting sauce then whisks into the sauce itself. Cook until the mixture begins to thicken. Remove from heat, add half the Parmigiano, stir.
Put in a mold in layers: eggplant, meat sauce, eggplant, béchamel (sauce) (the first layer was raw potatoes). Cover with foil, cook for half an hour. Then remove the foil, sprinkle with the remaining Parmigiano and cook for another 20-30 minutes.
Also Like
Comments for "Moussaka with Minced Meat, Eggplant, Tomatoes"