Eggplant Stewed with Minced Meat, Rice and Tomatoes
by Editorial Staff
Eggplant stewed with minced meat, rice and tomatoes are some of my favorite summer dishes, which I cook when I want to feed the whole family hearty at lunch or evening table. The dish turns out to be very juicy and aromatic. You won't have to call anyone to the table!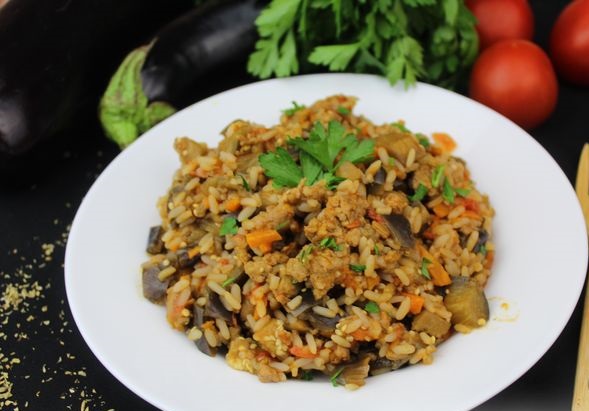 Ingredients
Eggplant – 600 g (4-5 small or 2 large)
Minced meat (I have pork) – 300 g
Tomatoes – 200 g (2 pcs.)
Rice (I have steamed) – 100 g
Carrots – 120 g (1 pc.)
Bulb onions – 100 g (1 pc.)
Garlic – 3 cloves
Tomato paste – 1 tbsp
Salt – 1.5 teaspoon (to taste)
Ground black pepper – 1 pinch
Fresh greens (for serving) – 3-4 branches
Vegetable oil (for frying) – 2 tbsp
Directions
Cut the eggplants into 1 cm cubes, sprinkle with salt (1 teaspoon) and add water. Leave for 10 minutes – this will get rid of possible bitterness, and in the finished dish, the eggplant pieces will keep their shape better.
Cut the carrots into cubes. Cut the onion into quarters.
Heat a frying pan with vegetable oil, put onions and carrots there. Fry over medium heat, stirring occasionally, for 5-7 minutes.

Add minced meat. Fry over high heat, stirring constantly and breaking the minced meat lumps, 5 minutes. Reduce the fire to a minimum and simmer for another 10 minutes under the lid.

Meanwhile, cut the tomatoes crosswise and pour boiling water over for 5 minutes. Then dip the tomatoes in cold water and peel them off. Cut out the hardcore. Cut the tomato pulp into small pieces.
Using a sieve, drain the water from the eggplant. Add eggplant to minced meat with carrots and onions. Send the tomatoes there and squeeze the garlic through a press. Cook over low heat for about 10 minutes.

Rinse the rice by changing the water several times until it remains clear. If necessary, transfer the vegetables with minced meat to a pan or a larger cauldron and add rice to them.
Stir the tomato paste in 200 ml of water and add to the eggplant with minced meat, rice, and tomatoes. Pour in salt and black pepper.

Stir and simmer eggplants with minced meat, rice, and tomatoes under a lid on minimum heat for 25-30 minutes, stirring occasionally. The time depends on the type of rice. Rice should absorb all the liquid and reach full readiness – become soft.
Rinse fresh herbs, dry, and chop finely. Arrange the eggplants with minced meat, rice, and tomatoes on portioned plates, sprinkle with chopped herbs, and serve.
Enjoy your meal!
Also Like
Comments for "Eggplant Stewed with Minced Meat, Rice and Tomatoes"