Eggplant Stewed with Tomatoes
by Editorial Staff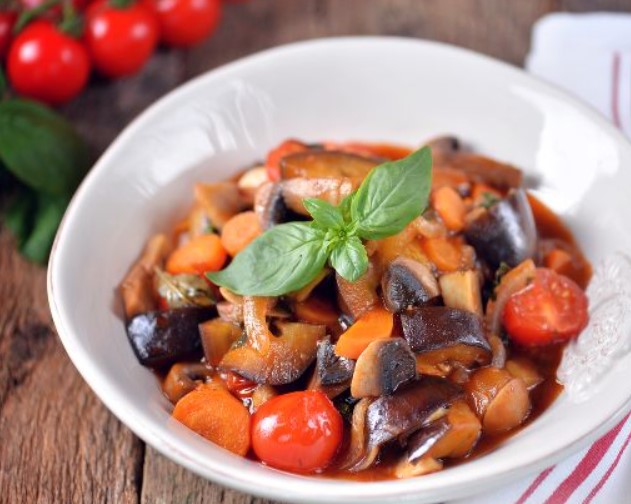 This is a versatile dish made from stewed vegetables and mushrooms. Stewed eggplants with tomatoes and mushrooms can be served hot or cold, as a separate dish or as a side dish.
Cook: 30 mins
Ingredients
Large eggplant – 1 pc.
Cherry tomatoes – 10 pcs.
Champignon mushrooms – 5-6 pcs.
Carrots – 1 pc.
Bulb onions – 1 pc.
Garlic – 1-2 cloves
Fresh basil – a couple of sprigs
Tomato sauce – 1 tbsp
Vegetable oil – 2-3 tbsp
Salt to taste
Ground black pepper – to taste
Sugar – to taste and desire
Directions
Prepare the food you need. Wash and dry the vegetables, peel the onions and carrots.

In a small amount of vegetable oil, fry the onion, cut into half rings.
Add coarsely chopped carrots, cook for 3-4 minutes.
Add the coarsely chopped champignons.
And add the eggplant immediately. Mushrooms and eggplants are cooked at the same time.
When mushrooms and eggplants are lightly browned, add water or vegetable broth.
Add a tablespoon of your favorite tomato sauce, season with salt and pepper, add a little sugar to balance the taste and cook the eggplant with mushrooms for 5 minutes.
Now add the chopped cherry tomatoes (you can take the usual ones, just do not forget to peel them), crushed garlic, stir and cook the eggplants with tomatoes for literally 3-4 minutes.

Sprinkle the stewed eggplant with tomatoes and mushrooms with fresh herbs, stir.
Turn off the stove, cover the frying pan with a lid and leave for 10-15 minutes for all the juices to mix.
Serve the eggplants stewed with tomatoes with the freshest bread as an independent dish or as a side dish for any meat. Bon appetit!
Also Like
Comments for "Eggplant Stewed with Tomatoes"