Fish Stewed with Eggplant
by Editorial Staff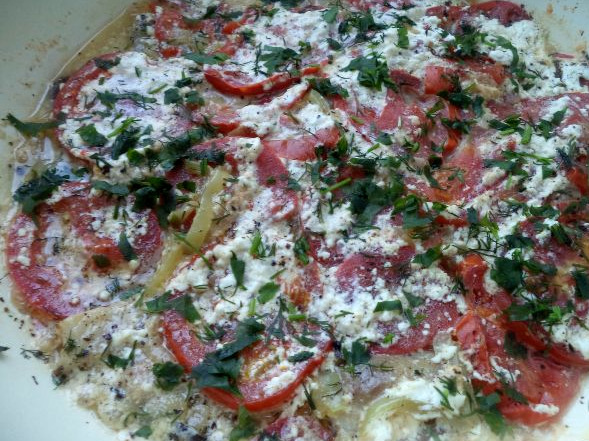 An interesting recipe for stewed fish. Fish fillet stewed with eggplant. We recommend serving boiled potatoes with herbs as a side dish.
Cook: 50 minutes
Servings: 4
Ingredients
Fish – 1 kg
Eggplant – 2-3 pcs.
Bulb onions – 2 pcs.
Bulgarian pepper – 1 pc.
Tomatoes – 2-3 pcs.
Vegetable oil – 0.5 cups
Sour cream – 0.5 cups
Garlic – 1-2 cloves
Greens – 0.5 bunch (to taste)
Salt – 1 tbsp (to taste)
Ground black pepper – 0.25 teaspoon (to taste)
Spices (coriander, basil) – 0.5 teaspoon (to taste)
Directions
Cut the fish into fillets with boneless skin, cut into slices, sprinkle with salt and pepper.
Cut the eggplants into slices.

Boil the kettle. Pour boiling water over eggplants. Leave on for 5 minutes. Drain the water.
Wash the pepper, remove the seeds, cut into strips.
Peel the onion, wash, cut into strips.
Preheat a frying pan, pour in vegetable oil. Cut the onion and pepper into strips. Put vegetables in hot oil. Fry over medium heat, stirring occasionally, for about 4-5 minutes.
Wash the tomatoes, cut into slices.
Put eggplants in a saucepan.
For eggplants – fish, onions, peppers.
And then sliced ​​fresh tomatoes.
Then add 2-3 tablespoons of water.
Drizzle with sour cream, sprinkle with salt and spices.
Simmer the fish covered over low heat for 15-20 minutes.
Peel and chop the garlic.
At the end of stewing, add chopped garlic to the fish.

The fish stewed with eggplant is ready.
Enjoy your meal!
Also Like
Comments for "Fish Stewed with Eggplant"