Fish Stewed with Onions
by Editorial Staff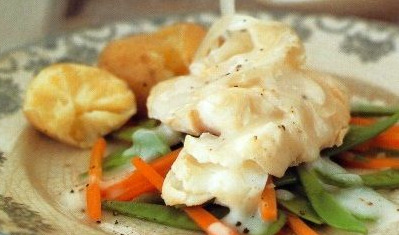 The fish is stewed in cider with onions, and a light fish sauce is prepared from the resulting broth.
Ingredients
Haddock or cod fillet – 680 g
Medium-sized onions (cut into rings) – 1 pc.
Bay leaf – 1 pc.
Fresh parsley – 2 sprigs
Fresh lemon juice – 2 teaspoon
Dry cider – 450 g
Corn starch – 25 g
Low-fat cream – 30 g
Salt to taste
Ground black pepper – to taste
Stewed vegetables for garnish (optional)
How to cook the fish stew with onions:
Directions
Cut the fillet into four equal parts, put in a deep frying pan, and pour cold water so that it only covers the fish, but does not exceed the fillet. Put onion, bay leaf, parsley on the fish, pour lemon juice, and sprinkle with salt.
Pour cider over the fish, leaving 2 tablespoons for the sauce. Cover the skillet and bring to a boil, then reduce heat and simmer for about 10 minutes, until tender.
Drain the broth from the fish pan and strain it through a sieve. Pour 300 grams of fish broth into a small saucepan and put on low heat. Dissolve the starch in 2 tablespoons of cider, and then add this liquid to the fish broth, stir well, bring to a boil, and cook, stirring constantly, for about 2 minutes, until thickened. If the sauce is too thick, you can add a little more fish broth. Remove the saucepan from the stove, add the cream to the sauce, season with salt and pepper to taste.
Remove all bones from the fish fillet, put the pulp on hot plates, put the onion on top, pour over everything with fish sauce. If desired, serve stewed vegetables with fish stewed with onions.
Enjoy your meal!
Also Like
Comments for "Fish Stewed with Onions"