Spicy Potato, Eggplant and Fish Stew
by Editorial Staff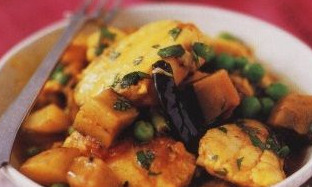 For this vegetable stew with fish, the most aromatic and sophisticated spices are selected. Stew with eggplant and potatoes will surely bring the whole family around the table.
Servings: 5
Ingredients
Tilapia or other white fish, fillet (cut into 5 cm pieces) – 680 g
Potatoes (peeled and diced 1 cm) – 120 g
Eggplant (cut into 1 cm pieces) – 120 g
Canned tomatoes without skin (chopped) – 75 g
Green peas, frozen – 50 g
Ground turmeric – 1 teaspoon
Salt – 1 teaspoon
Mustard oil – 4 tbsp
Mustard, black seeds – 0.25 teaspoon
Cumin, seeds – 0.25 teaspoon
Fennel, seeds – 0.25 teaspoon
Kalindzhi (black cumin), seeds – 0.25 teaspoon.
Fenugreek (fenugreek), seeds – 5-6 pcs.
Bay leaf – 2 pcs.
Red chili pepper, dried, whole – 2 pcs.
Green chili pepper, fresh (chopped) – 2 pcs.
Ground cumin – 0.5 teaspoon.
Ground coriander – 1 teaspoon
Fresh cilantro (chopped) – 30 g
Cooked rice for serving
How to make potato, eggplant, and fish stew:
Directions
Put the fish fillet on a large plate, sprinkle with half the turmeric and salt on all sides. Set aside.
Heat 2 tablespoons of mustard oil in a large deep skillet over medium heat, then remove the pan from the stove, add the seeds of mustard, cumin, fennel, kalindzha, and fenugreek.
Put the bay leaf, all the chili in the pan put the pan back on the stove, add ground cumin, coriander, and the remaining turmeric. Cook over medium heat, stirring occasionally, for about 30 seconds, then add the tomatoes, cook for another 4-5 minutes.
Put potatoes and eggplant in a frying pan, pour 350 g of water, add the remaining salt, bring the mass to a boil, reduce heat to low, cook the eggplant and potato ragout for about 15 minutes, stirring occasionally.
Meanwhile, in another large skillet, heat the remaining mustard oil, add the fish and fry until tender. Transfer the fish to a paper towel to drain excess oil.
Place fish and green peas in a skillet with stew, cook, stirring occasionally, for 4-5 minutes. Then add cilantro to the potato stew, stir and remove the pan from the stove. Serve potato stew with rice (optional).
Enjoy your meal!
Also Like
Comments for "Spicy Potato, Eggplant and Fish Stew"