Eggplant Cake with Chicken and Rice (Baked in the Oven)
by Editorial Staff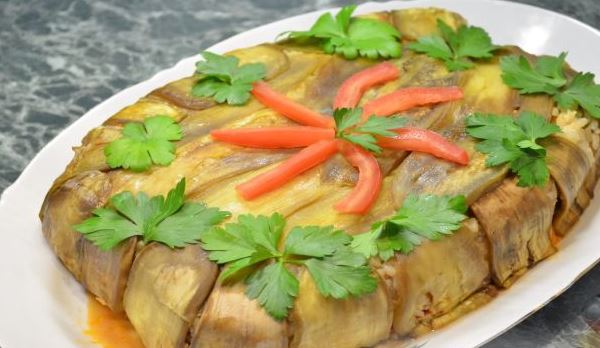 Snack cake is the best summer meal. It can be prepared quickly and easily, from almost any seasonal vegetables. Today we will make a delicious casserole cake with eggplant, minced chicken, rice, cheese, and tomatoes. This eggplant dish is delicious, budget-friendly, and worthy of the very best recognition in your cookbook.
Cook: 30 minutes
Servings: 8
Ingredients
Minced chicken – 500 g
Boiled rice – 300 g
Eggplant – 4 pcs.
Tomatoes – 2 pcs.
Garlic – 6 cloves
Cheese – 250 g
Mayonnaise – 1 tbsp
Vegetable oil – 3 tbsp
Tomato paste – 1 tbsp
Oregano – to taste
Basil – to taste
Salt to taste
Ground black pepper – to taste
Water (boiling water) – 150 ml
Greens – for decoration
Directions
Fry the minced chicken in vegetable oil. Season with salt, add spices – pepper, basil, oregano. Mix.
Cut the pre-peeled eggplants into long plates 0.3-0.5 cm thick.

Place in a container of saltwater for 15 minutes.
Then dry the sliced ​​eggplant in a dry skillet on both sides. Chop the peeled garlic finely.
To prepare the sauce, fry the chopped garlic in vegetable oil, pour 150 ml of boiling water, then add mayonnaise, tomato paste, salt, pepper, oregano, and basil. Stir and simmer for 3 minutes. The sauce is ready. Grate the cheese on a fine grater.
Grease a baking dish with vegetable oil. Place eggplant slices on the bottom and sides of the mold so that they protrude 3-4 cm beyond the edges of the mold.
Place a layer of half the rice cooked in salted water on top of the eggplants and sprinkle with cheese. Put the minced meat in the second layer and sprinkle it with cheese too.
Put the tomatoes in the third layer, season with salt, and sprinkle with grated cheese. Top with the remaining rice, pour over the sauce.

Cover the side of the casserole with protruding eggplant slices and place the remaining eggplant on the uncovered areas.
Place the form in an oven preheated to 180 degrees and bake eggplants with minced chicken, rice, tomatoes, and cheese for 25 minutes.
Cool the finished eggplant snack cake baked in the oven.
Turn the eggplant casserole with chicken and rice onto the dish, bottom-up. Serve garnished with herbs and vegetables.
Enjoy your meal!
Also Like
Comments for "Eggplant Cake with Chicken and Rice (Baked in the Oven)"