Chicken with Eggplant in the Oven
by Editorial Staff
There are a lot of fresh vegetables on the market now, which means it's time to cook one of my favorite dishes. This is chicken with eggplant and tomatoes baked in the oven. Just lick your fingers.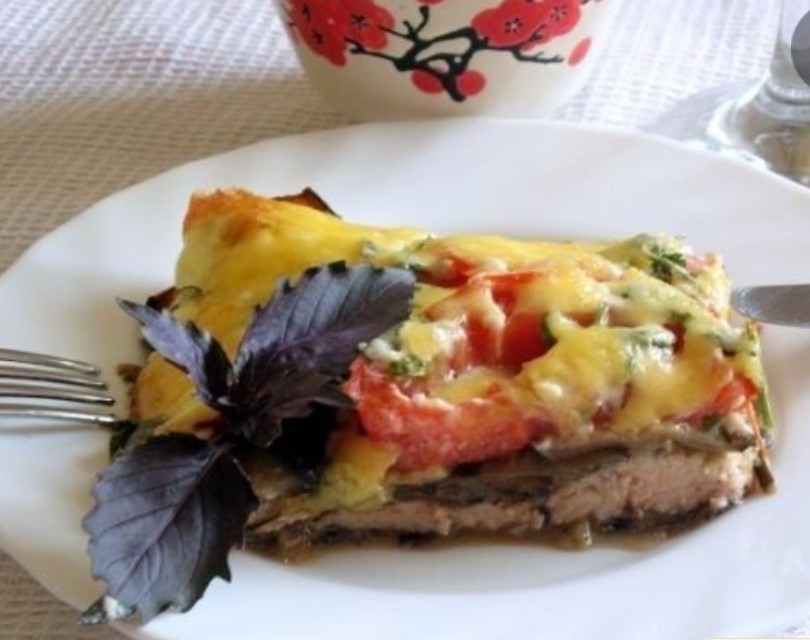 Cook: 2 hour
Servings: 5
Ingredients
Chicken fillet – 600 Grams
Cheese – 200 Grams
Tomatoes – 2 Pieces
Eggplant – 2 Pieces
Mayonnaise – 100 Grams
Parsley – 30 Grams
Garlic – 1 Clove
Salt, pepper, spices – To taste
Vegetable oil – To taste (for frying)
Directions
Wash the eggplants and cut into plates. Salt and leave for 30 minutes, then drain the juice. Then fry the eggplants for 1 minute on each side.
Cut the chicken fillet into several pieces, cover with cling film and beat with a kitchen hammer. Salt and pepper upholstery to taste.
Cut the tomatoes into thin rings.
Finely chop the garlic and parsley, grate the cheese on a coarse grater.
Grease a baking dish with vegetable oil. Next, we will lay out the ingredients in layers. The first layer is eggplant.
The second layer is chops, then eggplant again.

Then we spread the tomatoes, greens with garlic on them. Make a net of mayonnaise on top.
And the final chord – sprinkle everything on top with grated cheese. Preheat the oven to 180 degrees and bake for 25 minutes.
Bon appetit!
Also Like
Comments for "Chicken with Eggplant in the Oven"