Chicken in the Oven
by Editorial Staff
A delicious and very appetizing dish is chicken baked in the oven. It can be prepared on a regular day and served for a small family celebration. It is prepared very easily, because the recipe is simple.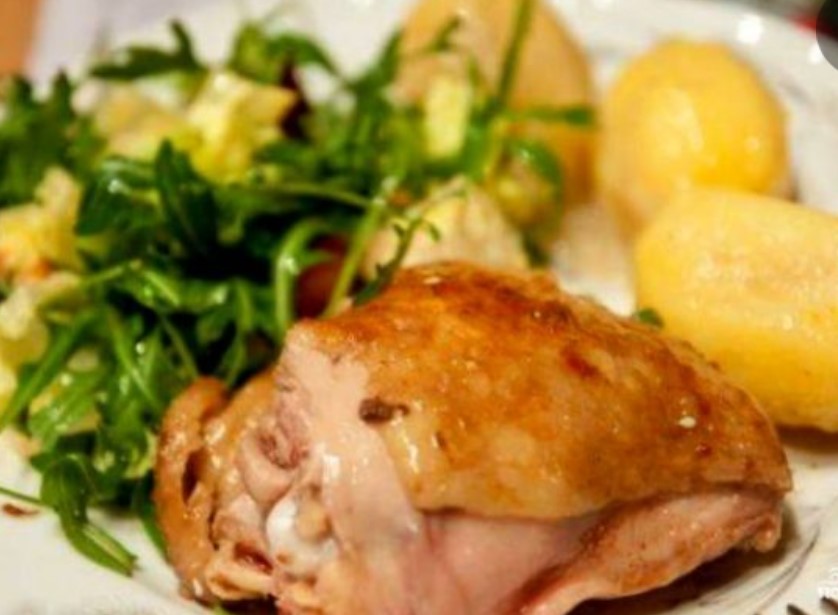 Cook: 30 mins
Servings: 6-8
Ingredients
Chicken – 1.4 Kilograms
Soy sauce – 4 Tbsp. spoons
Chili paste – 1 tablespoon spoon (or a mixture of garlic, chili and vegetable oil)
Grated ginger – 1 Tbsp. the spoon
Onion – 1 Piece
Vegetable oil – 2-3 Art. spoons
Directions
Wash the chicken, peel it thoroughly and cut it on the back.
Layout the cut chicken flat.
To make a chicken marinade, combine the soy sauce, chili paste and ginger. Spread the marinade on the inside of the chicken.
Put in a deep mold and spread the marinade on the outside of the chicken.

Peel the onion, cut into half rings and apply a little to make the juice stand out. Sprinkle the chicken onion and leave to marinate for an hour and a half.
Sprinkle the chicken with oil, cover with foil and send it to the oven to bake at 200 degrees for an hour.
Then we remove the foil, the onion and the released juice, we also remove, you can make a sauce from them. And put the chicken in the oven for another 15-20 minutes to brown.
Mash the onion and juice in a blender and serve with the chicken.
Bon appetit!
Also Like
Comments for "Chicken in the Oven"