Chicken Kebab, in the Oven
by Editorial Staff
Suddenly you wanted a barbecue, but there is absolutely no way to get out into nature? So this is not a problem! Cook a tender chicken skewer in the oven. It is easy to prepare, but it turns out very tasty.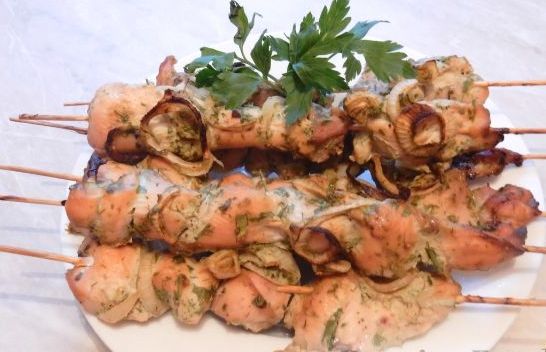 Cook: 3 hours
Servings: 5
Ingredients
Chicken – 1 pc.
Bulb onions – 1 pc.
Sour cream – 2 tbsp
Soy sauce – 2 tbsp
Salt – 1 teaspoon
Seasoning for chicken – 1 teaspoon
Fresh herbs (parsley, dill) – a bunch
Directions
Cut the chicken, separate the chicken from the bone and cut into small pieces, cut the breast into long strips.

Cut the onions into rings.
Add the onion to the chicken fillet.
Salt the chicken.
Then add 2 tbsp of sour cream.
Pour in 2 tbsp of soy sauce.
Add chicken seasoning. Mix.
Wash and grind a bunch of greens. Add to chicken meat.

Mix gently. Put the chicken in the refrigerator for 2-3 hours to marinate well.
After 2 hours, the chicken was marinated. String kebabs on skewers, alternating with onions.
I took the grate from the microwave and put it on a baking sheet – I will put the kebabs on the grate.
Put the chicken skewers in the oven, preheated to 180 degrees, for 40 minutes.
Oven chicken kebab is ready!
I advise you to cook such kebabs for a festive table. Make your family and friends happy!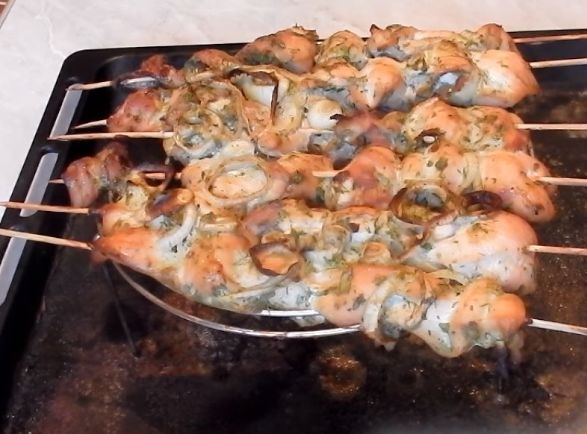 Enjoy your meal!
Also Like
Comments for "Chicken Kebab, in the Oven"