Chicken Kebab in the Oven
by Editorial Staff
Cooking and trying the kebab in the oven. Chicken skewers marinated in sour cream and spices. Such a delicious result, and so easy, I recommend it!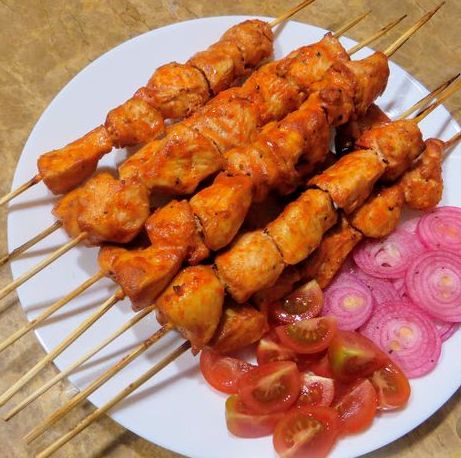 Servings: 8
Ingredients
Chicken breast (fillet) – 700 g
Tomato (tomato paste) – 1 tbsp
Sour cream – 4 tbsp (200 ml)
Olive oil – 5 tbsp
Ground paprika – 1 teaspoon
Ground coriander – 1 teaspoon
Ground black pepper – 1/2 teaspoon
Salt – 1.5 teaspoon
Directions
Preparing the marinade for the kebab. To do this, mix the spices: coriander, black pepper, paprika, salt. Then pour in the olive oil and mix well.

Add sour cream and tomato to the spices with butter. Mix the marinade sauce thoroughly.
Cut the chicken fillet into small (barbecue) pieces (determine the size yourself).
We send the meat to the marinade, mix well, cover with a lid, and put it in the refrigerator to marinate for 2-3 hours.
While the meat is marinating, soak the wooden skewers for the kebab in water.

We string the pieces of meat on wooden skewers and put the chicken kebab on a baking sheet lined with parchment paper.
Cooking chicken kebab in the oven heated to 180 degrees for 30 minutes. Turn the chicken skewers a couple of times until a delicious golden brown. In the end, turning, I put the kebabs higher in the oven so that the crust is a little fried.
You can serve chicken skewers with pickled onions and vegetables.
Enjoy your meal!
Also Like
Comments for "Chicken Kebab in the Oven"