"Lula-Kebab" in the Oven
by Editorial Staff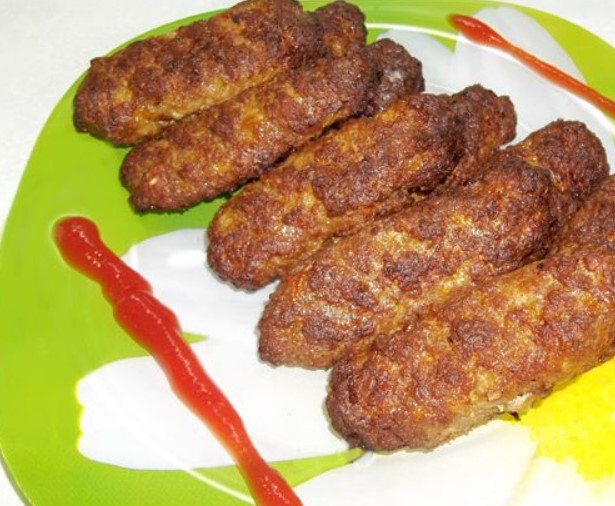 If you are tired of cutlets, there is a great alternative – this is a kebab. Traditionally, fatty lamb, a lot of onions and spices are used for the preparation of kebab, and baked over charcoal. The difference from cutlets is the absence of eggs and bread in the minced meat. But I still add a couple of eggs, use the meat in the fridge and bake it in the oven.
Cook: 3 hour
Servings: 10
Ingredients
Pork – 0.5 kg
Onions – 3 heads
Garlic – 2 cloves
Eggs – 2 pcs.
Mayonnaise – 1 tablespoon
Cilantro (coriander) – to taste
Salt to taste
Black pepper – to taste
Directions
Wash the meat, peel off the foil and cut into pieces.
Twist the meat in a meat grinder using a mesh attachment with large holes to make the minced meat pieces larger.

Peel the onion, wash, chop and twist in a meat grinder.
Put the twisted meat and onions on a plate.
Add eggs, mayonnaise, salt, pepper, and cilantro (ground coriander). Add garlic squeezed through the garlic to the minced meat.
Mix everything thoroughly so that the spices are evenly distributed. Put the minced meat in the refrigerator for a couple of hours so that the meat is saturated with all the aromas.
Take a serving of minced meat, shape it into a sausage and place on a baking sheet. Make oblique cuts on the top of the sausage, for beauty.

lo

Send the kebab to bake in the oven at 180 degrees for 25 minutes. Good appetit!
Also Like
Comments for ""Lula-Kebab" in the Oven"