Lula-Kebab From Beef
by Editorial Staff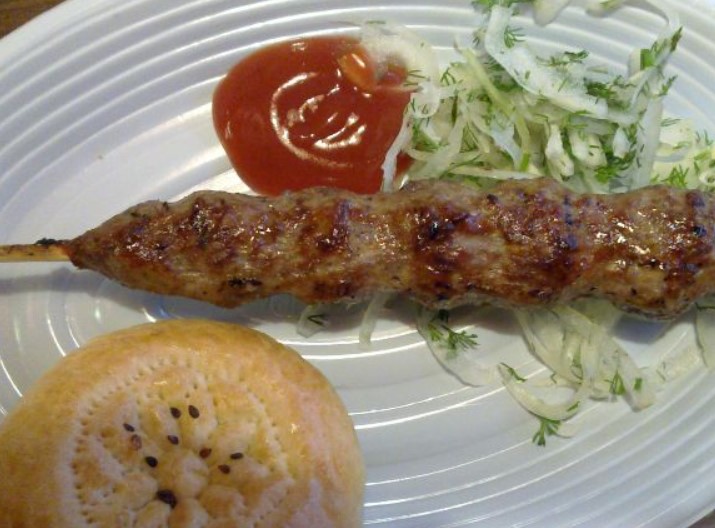 Lula kebab is a famous dish made from lamb. It is not at all difficult to make such a yummy at home, try it. I recommend the lighter, more affordable beef kebab. This is, of course, an adaptation of the recipe for home use.
Cook:1 hour
Servings:10
Ingredients
Minced beef – 1 kg
or minced lamb – 1 kg
Bulb onions – 1 pc.
Garlic – 4-5 cloves
Chicken egg (optional) – 1 pc.
Greens (optional) – to taste
Ground black pepper – to taste
Salt to taste
Directions
Peel and wash onions, cut into small cubes. Peel the garlic and chop finely with a knife.
Put the minced beef (or lamb) into a bowl, season with salt and pepper. Add an egg if desired.

Add onion and garlic. Mix the minced meat well. Beat the minced meat on a cutting board (about 5 minutes). The minced meat will become uniform and sticky enough. Then put the minced meat in the refrigerator for half an hour to marinate.
Form a kebab. Grease hands with vegetable oil. Form a sausage (3-4 cm in diameter), put it on a wooden skewer. Press the minced meat sausage against the skewer as tightly as possible so that it does not fall apart. Fry beef kebab on the grill or at home in a pan. To do this, heat a frying pan, pour in vegetable oil. Put the kebab in hot oil. Fry the sausages over low heat on all sides (10-15 minutes) until golden brown, while constantly turning the beef kebab over.

Serve beef kebab with fresh vegetables, pickled onions, ketchup or adjika.
Enjoy your meal!
Also Like
Comments for "Lula-Kebab From Beef"