Lula Kebab with Zucchini
by Editorial Staff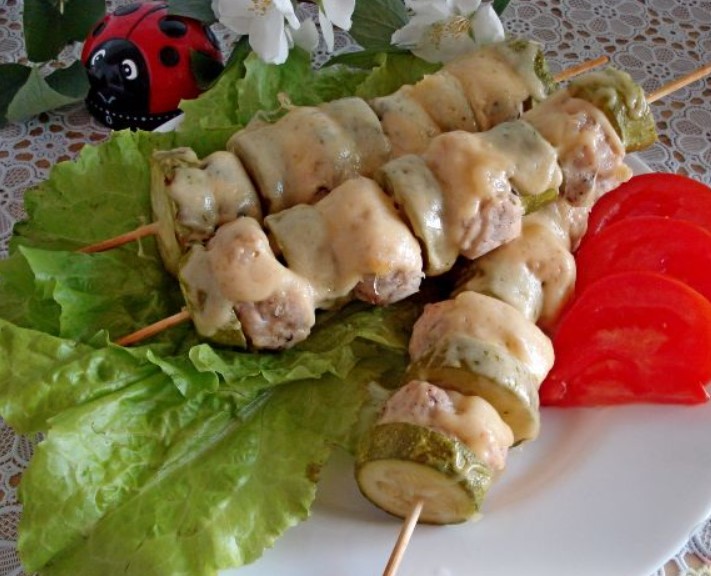 Young zucchini successfully harmonize with the traditional oriental dish Lula kebab, supplementing the minced meat with its tender pulp, and the cheese crust adds festiveness to the Lula kebab dish with zucchini and enhances the original taste.
Cook: 40 mins
Servings: 3
Ingredients
Chicken fillet – 400 g
Lard – 70 g
Young zucchini – 250 g
Onions – 40 g (1 pc.)
Fresh cilantro – 40 g
Hard cheese – 150 g
Salt to taste
Ground black pepper – to taste
Directions
To make zucchini kebab, you first need to prepare the ingredients.

Twist the chicken meat and onions into minced meat. Cut the bacon into small cubes. Mix the minced meat with lard, salt and pepper.
Chop the cilantro finely. Add cilantro to the minced meat and mix well, slapping the minced meat with your palms and hitting it on the table.
Cut the courgettes into centimeter circles, salt them.
Grease the foil with oil. String a circle of zucchini and a ball of minced meat on a skewer, which then flatten onto the zucchini.
String the entire skewer, alternating between zucchini and minced meat (the zucchini should squeeze the meat from 2 sides).

Seal the lula kebab with zucchini with foil, like candy. Bake at 180 degrees.
Meanwhile, grate the cheese.
After 20 minutes, open the foil and brown the kebab with zucchini for another 5 minutes. Sprinkle cheese on the ready-made dish and leave it in the turned off oven for a couple of minutes.

Remove the foil from the kebab and place the skewers on the lettuce leaves. Any vegetables are suitable for serving the plate.
Ketchup is also appropriate here.

Enjoy your meal!
Also Like
Comments for "Lula Kebab with Zucchini"