Lula-Kebab in Lavash (in Alma-Ata)
by Editorial Staff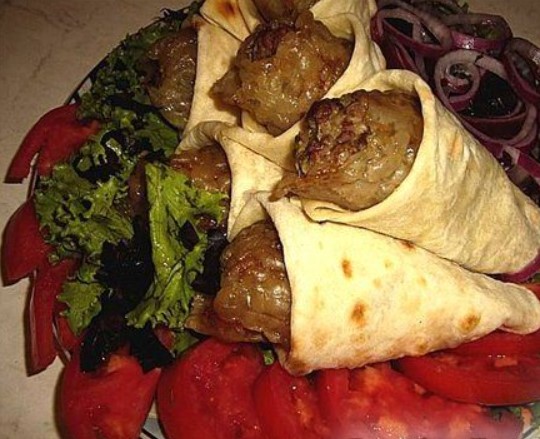 A very tasty, bright and, of course, beautiful dish. Very typical for our city. In all kebabs, cafes and restaurants, it is served. And we cook lula kebabs at home. Each housewife has her own way. I'll show mine.
Ingredients
For the test:
Flour – 2 cups
Vegetable oil – 2 tbsp
Salt – 0.5 teaspoon
Water – 0.5 cups
For minced meat:
Minced beef or lamb – 800 g
Onions – 300 g (2 medium heads)
Ground dried barberry – 1 teaspoon
Ground cardamom
Dried basil
Black and red peppers
Salt
Net – internal lamb fat – about 300 g
Onion
Vinegar or lemon juice – 3 tbsp
Fresh basil
Fresh lettuce leaves
Directions
Let's start as usual with the test. From the listed products, replace not very steep, but rather dense dough. Set aside for proofing.
Lula kebab preparation. Minced meat. Peel the meat from films, veins, wash, dry, cut into small slices and pass through a meat grinder. Peel the onion and also through a meat grinder.

Add dried herbs, seasonings, spices, salt. Mix well and beat off. Minced meat for kebab should be dense. Divide minced meat into equal parts and shape into elongated sausages
Spread the net (inner fat) evenly on the table, roll with a rolling pin.
Cut into oblong layers according to the number of cradles. Wrap minced meat in a mesh and put on a baking sheet.
Place a baking sheet in a hot oven and bake kebabs for 40 minutes at 180-200 degrees. While the kebabs are being baked, prepare pita bread. Divide the dough into as many tortillas as we have in portions
Roll it out very thinly. Cut out a circle to fit the lid with a diameter of about 20 cm.
Heat the frying pan and bake lavashik in a dry frying pan, without oil, for 1 minute (even a little less) on each side, over medium heat. Shake off the flour before putting it in the pan, so that it does not burn.

Here is such a pile turns out, but – you need to cover so that it does not dry out.
You also need to marinate the onions. Cut the onion into rings, put in a bowl, pour vinegar or lemon juice there, mash slightly and set aside for ten minutes.
Lula kebabs are already ready. It remains only to collect everything. Remove the baking sheet from the oven. Wrap each cradle in lavash, put the kebabs on a dish with green salad, pickled onion on top, decorate with tomatoes and coarsely chopped basil. Serve kebabs on the table right away – eat only hot.
Enjoy your meal!
Also Like
Comments for "Lula-Kebab in Lavash (in Alma-Ata)"