Georgian Lavash
by Editorial Staff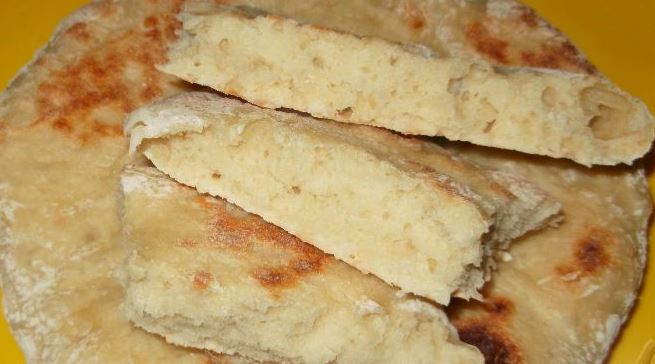 Georgian lavash made from yeast dough (Megrelian lavash) can be easily prepared at home, with your own hands. Lush, porous white bread in the form of a flatbread is baked in a cast-iron pan.
Cook: 40 minutes
Servings: 5
Ingredients
Flour – 750 g (650 for dough + 100 g for adding)
Dry yeast – 6 g
Water – 500 ml
Salt – 0.5 tbsp
Sugar – 0.5 teaspoon
Directions
First, you need to take 0.5 cups of warm water (40 degrees), dissolve yeast and sugar in it. Leave on for 10 minutes.
Dissolve the salt in the rest of the water. Pour the matched yeast into the water with salt. Mix. Gradually add flour (600-650 g).

The dough should be very, very soft and sticky, so mix it with a spoon. Only at the end, if it's too hard to stir with a spoon, you can knead a little with your hands.
Cover the bowl with the dough with foil and leave in a warm place for 30-40 minutes. When it doubles in size, mix the dough again and put it back to rise (for another 30 minutes).
Pour the remaining flour into a bowl or tray. Separate a fifth of the dough, spoon the dough into the flour. Cover the rest of the dough again. Roll a portion of the dough on all sides in flour, but do not knead. Leave on for 5 minutes. At this time, put a dry cast-iron pan over medium heat (if there is no cast-iron pan, the pan should be heavy, thick-walled).
Take the dough in your hands and spread it into a cake (it spreads very easily).
Put the cake in a dry preheated pan, flatten it. Cover and bake Georgian pita bread over medium heat until the top is firm (5-7 minutes).
Immediately, as soon as the cake has started to bake, separate the next portion of the dough and put it in the flour.
When the lavash is baked on one side, turn it over and fry until golden brown on the other side, already without a lid (another 5 minutes). Georgian lavash is ready.
Bon Appetit!
Also Like
Comments for "Georgian Lavash"