Georgian Eggplants
by Editorial Staff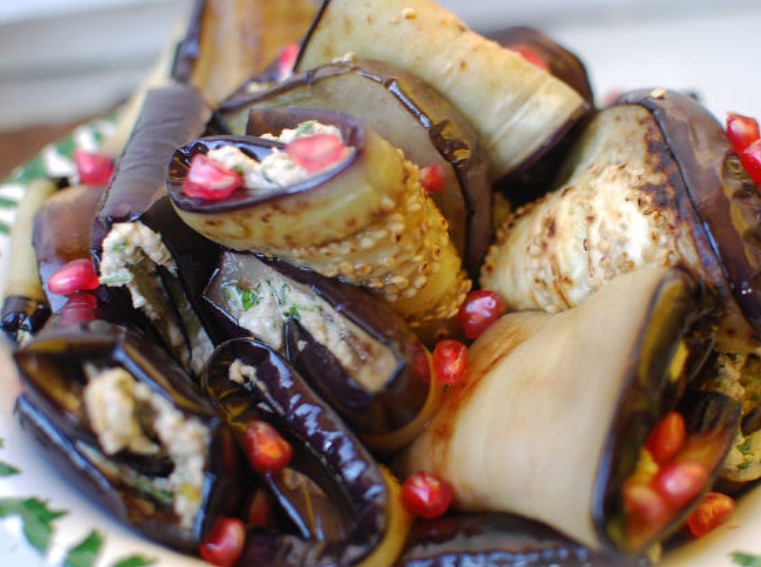 A simple and tasty vegetable snack – Georgian eggplant with nuts and garlic.
Cook: 25 mins
Ingredients
Eggplant – 4-5 pieces
Peeled walnuts – 100 g
Cilantro
Garlic
Sunflower oil
Pomegranate seeds
Directions
I cut the eggplants into long slices and fried them over high heat.
There are discrepancies here – someone pre-soaks eggplants in cold water, someone, on the contrary, dries them with a towel. Everything works out well for me without it. You just need to remember that they absorb all the oil when frying, and do not abuse it. So you will overcook everything.
Now the filling. Everything is traditional here. I crushed the kernels of walnuts in a coffee grinder, added water, it turned out such a paste. I mixed in finely chopped cilantro, squeezed out the garlic, added Svan salt. I tried it – good. With the help of water, I made a consistency so viscous that it was convenient to spread, and not apply. Not for yourself – for guests.

Then you guessed it yourself. You take the eggplant body, exhausted by the heat, put it on a plate, spread it with a gentle soothing nut paste, wrap it up as it goes. Pomegranate seeds for beauty and color. The taste is excellent, understandable to everyone – they eat Georgian eggplant first of all.
Bon appetit!
Also Like
Comments for "Georgian Eggplants"