Kharcho in Georgian
by Editorial Staff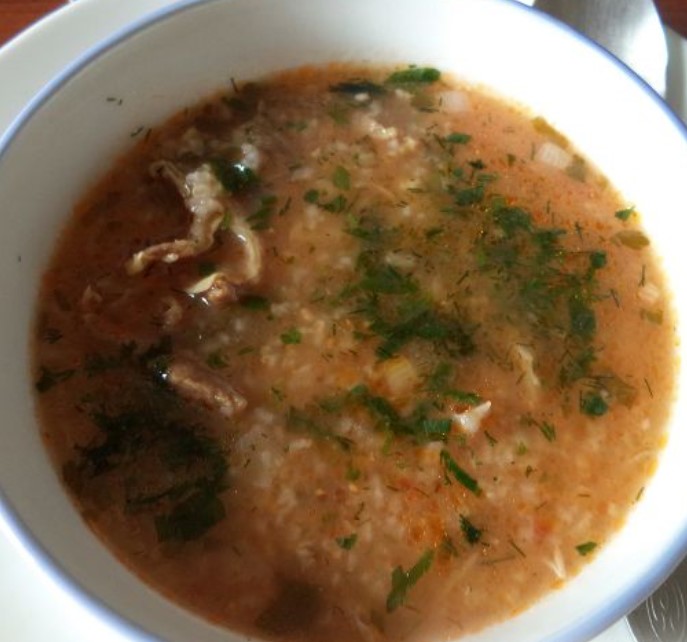 Today I will recommend kharcho soup for lunch. This dish occupies a worthy place in the treasury of Georgian cuisine. Who doesn't love kharcho? Probably there are no such people.
Cook: 1 hour 30 mins
Servings: 2
Ingredients
Lamb – 150 g
or beef – 150 g
Water – 1 l
Rice – 85 g
Onions – 30 g
Vegetable oil – 25 g
or fat – 25 g
Tkemali sauce – 12 g
Tomato puree – 10 g
Garlic – 3 g
Hops-suneli – 0.4 g
Greens (cilantro, parsley, dill) – 1 teaspoon (to taste)
Bay leaf – 1-2 pcs.
Salt – 6 g (to taste)
Pepper – 2-3 g
Directions
The soup products are in front of you.
Rinse the rice in several waters, soak in cold water (for the duration of cooking meat).
Rinse the lamb (beef) brisket, chop it together with the cartilage, in pieces of 25-30 g.

Put the meat in a cauldron, pour cold water.
Put the kazan on the fire. Bring the meat to a boil, skimming off the foam. Reduce fire. Boil covered over low heat for 40-50 minutes.
Peel, wash, and chop the onion.
Preheat a frying pan, add fat (or pour in vegetable oil). Put onion in a frying pan, sauté, stirring occasionally, over medium heat for 2-3 minutes.
Peel the garlic, crush it in a mortar or pass through the garlic.

Wash greens and chop finely.
Add soaked rice, sautéed onion to the cauldron, bring to readiness (about 20 minutes). Season the soup with tkemali sauce, tomato.
Also season with chopped cilantro, crushed garlic, suneli hops, pepper, bay leaf, salt. Cook for another 6 minutes.
Georgian kharcho soup is ready.
Bon Appetit!
Also Like
Comments for "Kharcho in Georgian"