Solyanka in Georgian
by Editorial Staff
I will offer a Georgian saltwort recipe for lunch. You regulate the density of this dish yourself. Want some soup? Or do you want the second, but please 🙂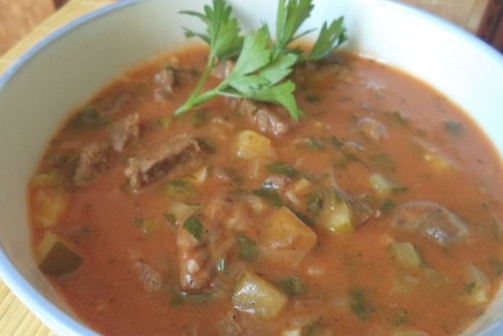 Cook: 30 mins
Servings: 1
Ingredients
Beef – 250 g
Vegetable oil (or fat) – 20 g
Onions – 40 g
Tomato paste (or tomato puree) – 20 g
Pickled cucumbers – 50 g
Southern sauce – 10 g
Wine vinegar – 4 g
Garlic – 3 g
Flour – 4 g
Greens – 7 g
Salt – 4 g (to taste)
Pepper – 3 g (to taste)
Broth – 0.5-1 glass (to taste)
Directions
Products for Georgian hodgepodge in front of you.
Peel the onion, wash, chop finely.

Cut the cucumbers into small cubes.
Peel the garlic, chop finely.
Wash greens, chop finely.
Wash the meat, cut into small pieces of 1-2 cm.
Preheat a frying pan. Pour in vegetable oil (or fat). Place onion and meat in hot oil.
Salt, pepper and fry the meat with chopped onions in preheated fat for about 10 minutes over medium heat, stirring occasionally.
Add tomato puree, mix.
Then add flour, stir, sauté for 5 minutes.
Dilute everything with broth.
Then add the pickles, garlic, wine vinegar, sauce, cut into small cubes. Stir and cook for another 5 minutes.
Add chopped greens.
Stir and serve. Solyanka in Georgian is ready!

If desired, serve Georgian-style hodgepodge with a sprig of herbs or sprinkle with chopped herbs.
Enjoy your meal!
Also Like
Comments for "Solyanka in Georgian"