Lobio in Georgian with Egg
by Editorial Staff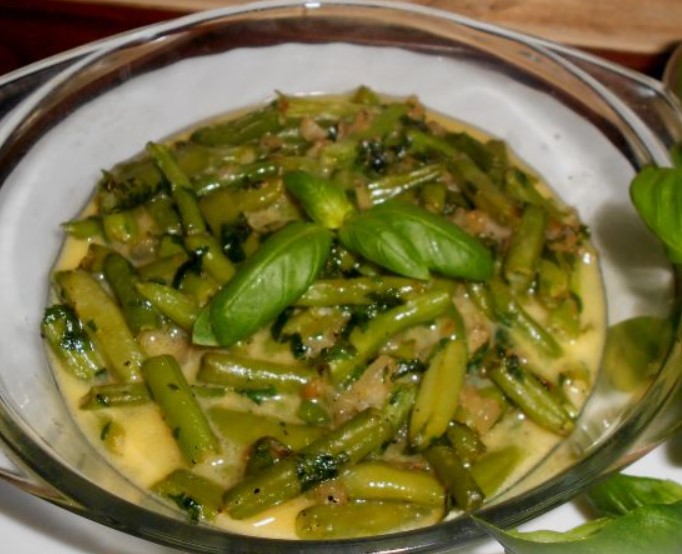 A Georgian lobio recipe can include a variety of ingredients, but the basis of the dish is beans. Which is what the word "lobio" (or lobia) means. Lobio recipe in Georgian with egg is one of the simplest, classic lobio recipes.
Ingredients
Green beans – 250 g
Bulb onions – 1 pc.
Salt – 0.5 teaspoon (to taste)
Pepper – 0.25 teaspoon (to taste)
Fat – 40 g (how much will it take)
Broth – 30 ml (to taste)
Parsley – 0.25 bunch (to taste)
Cilantro greens – 0.25 bunch (to taste)
Basil greens – 3 sprigs (to taste)
Chicken eggs – 2 pcs.
Butter – 30 g
Directions
To prepare a lobio with an egg, we prepare the ingredients. Wash the beans thoroughly, cut into pieces 2-3 cm long. The broth can be taken both vegetable and meat. I used the meat broth left over from the pork boiling.
Peel the onion, wash and chop finely.
Put the pan on medium heat and melt the fat.
Saute the onions lightly for 2 minutes.
Add beans to the onion. Salt chunks of green beans and chopped onions, sprinkle with pepper.

Simmer the beans in fat for 3 minutes, adding a little broth.
Grind the herbs.
Add cilantro, parsley and basil to the pan and cook over medium heat (5 minutes).
Beat eggs with a whisk.
Transfer the beans to an ovenproof dish. (If you have a frying pan with a removable handle and can be sent to the oven, you can skip this step.)
Then pour the beaten eggs over the beans.
Bake in an oven preheated to 200 degrees for 15 minutes.
Melt the butter in the microwave for 10 seconds on low power.
When serving, pour butter over the lobio.
Enjoy your meal!
Also Like
Comments for "Lobio in Georgian with Egg"