Lobio in Georgian
by Editorial Staff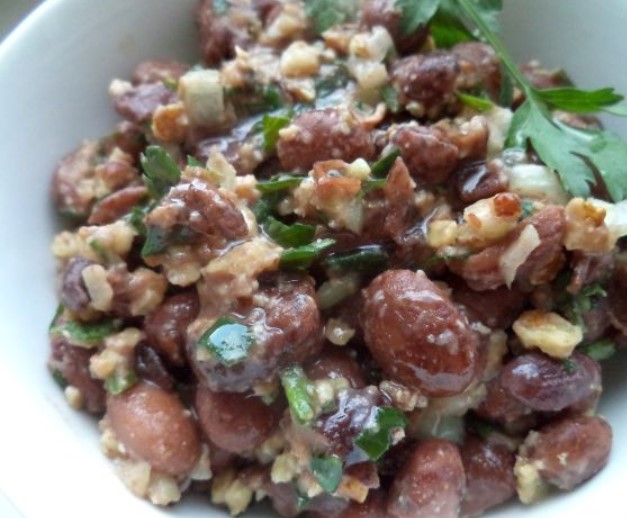 Georgian lobio is a dish made from dried beans or bean pods. In Georgian cuisine, lobio is prepared in many different ways, we offer a recipe for lobio in Georgian from dried beans with walnuts, seasoned with onions, garlic and herbs.
Cook: 2 hour
Servings: 4
Ingredients
Beans – 1 glass
Onion – 1 head
Peeled walnuts – 1 glass
Garlic – 3 cloves
Greens (Parsley) – 1 bunch (to taste)
Salt – 1 teaspoon (to taste)
Red pepper – 1 pinch (to taste)
Directions
Products for cooking lobio in Georgian are in front of you.
Sort dry beans.
Place the beans in a saucepan, pour cold boiled (!) Water (even better – good cold beer) and soak under a lid for 10-12 hours, preferably in the refrigerator.
Then put the saucepan on the fire (beans in the same liquid), very slowly, bring to a boil under the lid and cook over low heat for 1.5-2 hours until soft. (Even 2-3 minutes of vigorous boiling will make the beans tough, glassy.)

Before the end of cooking, peel, wash and finely chop the onions.
Wash greens and chop finely.
Then grind the nuts or crush with a rolling pin.
Peel the garlic, chop finely with a knife or grind in a mortar.
Put all this in boiled beans, season Georgian lobio with red pepper and salt to taste.
Mix everything well, boil for 5 minutes and cool.

Lobio in Georgian can be served.

Enjoy your meal!
Also Like
Comments for "Lobio in Georgian"