Lavash Khachapuri
by Editorial Staff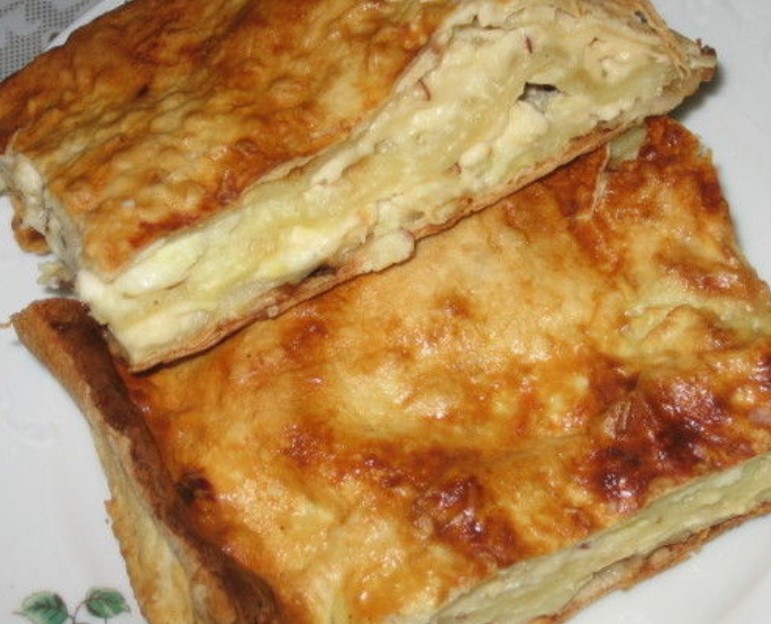 A quick and tasty cheesecake. The idea is taken from the Internet. Modern cooking comes to the rescue of the hostess, baking lavash takes a few minutes! For khachapuri, I take smoked cheese. With salted curd, it creates a very interesting flavor. Quick cottage cheese pastries in the oven are perfect for family dinners.
Cook: 55 mins
Servings: 6
Ingredients
Armenian lavash (thin) – 2 large sheets
Eggs – 2 pcs.
Smoked sausage cheese – 200 g
Cottage cheese – 250 g
Kefir – 250 g
Salt to taste
Butter – for greasing the baking sheet
Directions
Beat kefir and eggs together. Rub the cheese on a coarse grater, salt the cottage cheese and mix with the cheese. Grease a baking sheet with oil and put pita bread on it so that one side is larger.
Tear the second lavash into large pieces. We moisten 1/3 of them in kefir with an egg and spread on dry lavash. Spread half of the cheese evenly on top.
On it again put 1/3 of the lavash soaked in kefir and again the rest of the cheese. We finish with the last 1/3 of the lavash soaked in kefir with an egg. Let's leave a little mixture of kefir and egg. We turn the sides of the pita bread up
We cover with the second half of the pita bread and tuck the sides under it. Lubricate with kefir with an egg and put in an oven preheated to 180 degrees for 25-30 minutes.

Here is such a ruddy khachapuri.
Khachapuri is delicious and warm and cold. Especially with green tea.
Lavash khachapuri in a cut.
Bon Appetit!
Also Like
Comments for "Lavash Khachapuri"