Khachapuri Megrelian
by Editorial Staff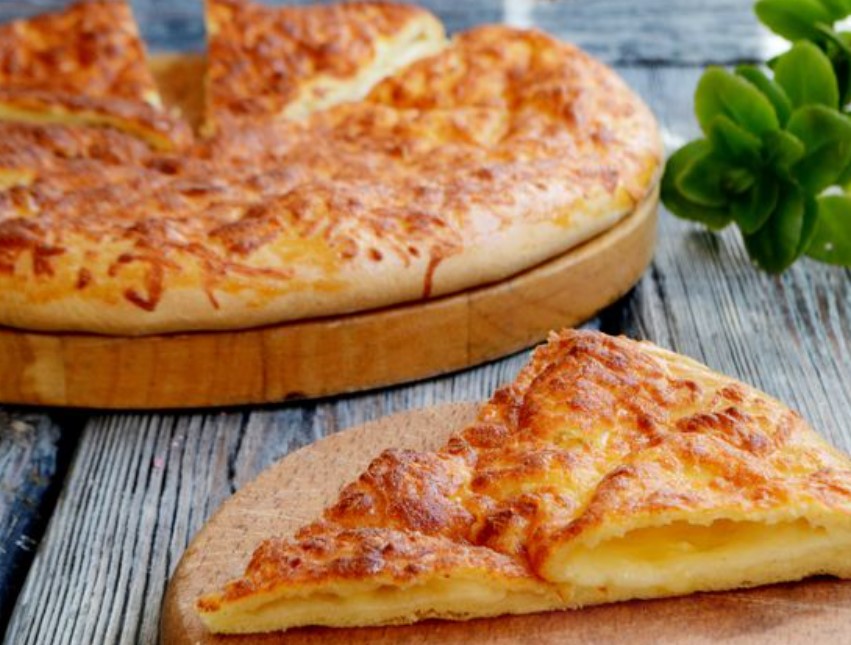 Megrelian Khachapuri is a famous Georgian closed pie with young Imeretian cheese (it is used to make suluguni, a delicious pickled cheese). Since Imeretian cheese is difficult to buy in stores, we will prepare a fragrant crunchy khachapuri with suluguni.
Cook:40 mins
Servings: 4
Ingredients
Suluguni cheese – 250 g
Flour – 220 g + for burning the table
Kefir – 100 ml
Sour cream – 70 g
Butter (softened) – 40 g
Egg – 1 pc.
Sugar – 1 teaspoon
Soda – 1/2 teaspoon
Salt – 1/3 teaspoon
Directions
Prepare all the ingredients for baking the cheese covered suluguni cake. You need butter soft – remove it from the refrigerator beforehand. Sift the flour

Combine sour cream, kefir, sugar, salt and soda in a bowl. Stir and let sit for 5-10 minutes.
Due to the acidic environment, the soda was extinguished and the mixture was filled with air bubbles.
Add soft butter, stir.
While adding the sifted flour, knead the dough.
It is better to finish the batch on a table covered with flour.
The dough turns out to be soft, pliable, but does not stick to the hands and table.
For the filling, grate the suluguni on a fine grater. Turn on the oven so that it warms up to 190 ° C.
Roll out the dough into a round layer about 30 cm in diameter. Place the prepared suluguni in the middle. Leave 3-4 tablespoons of cheese to sprinkle on the cake.

Raise the edges, bring them together and pinch at the top, like a large khinkali. Try to leave no air inside the khachapuri.
Use a rolling pin to roll the khachapuri into a round cake with a diameter of 30-40 cm and a thickness of 1-1.5 cm.
Transfer the khachapuri to a baking tray. Grease the surface of the khachapuri with an egg.
Sprinkle the remaining suluguni cheese over the top.
Bake the khachapuri for 20 minutes. If the top swells, pierce it with a knife and release the air.
Khachapuri Megrelian is ready! Serve the khachapuri warm, cut into segments.
Such a delicious cheese pie is somewhat reminiscent of pizza – children eat it with no less pleasure than adults!

Cook a piece of Georgia in your kitchen. :
Bon appetit!
Also Like
Comments for "Khachapuri Megrelian"