Khachapuri in Ossetian
by Editorial Staff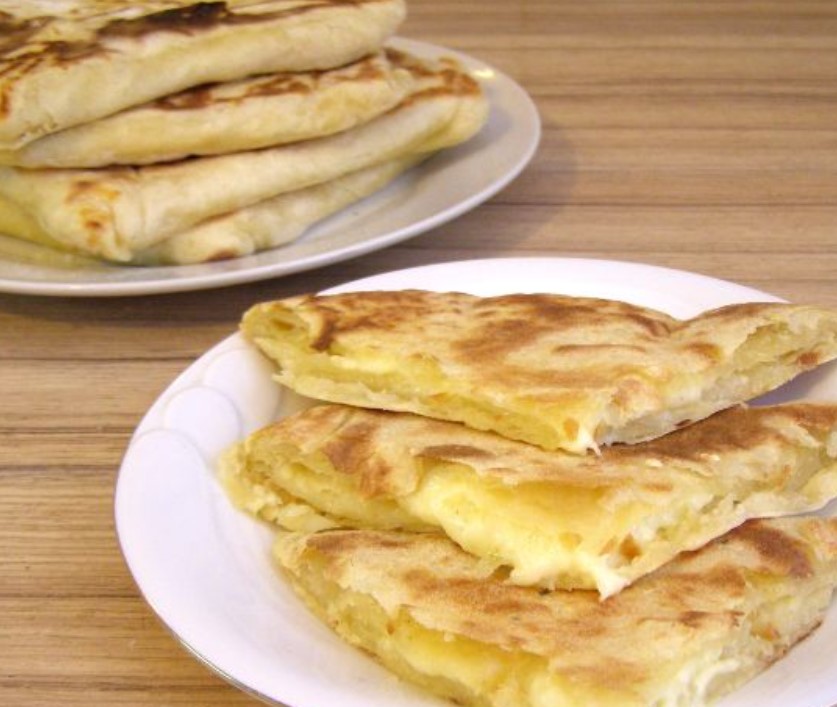 Wonderful Ossetian pies have gained wide popularity long ago. Based on the recipe of these pies, a recipe for khachapuri with Ossetian cheese adapted to home conditions.
Cook: 2 hours 30 mins
Servings: 10
Ingredients
For the test:
Flour – 4-4.5 cups
Kefir – 0.5 l
Margarine – 200 g
Salt – 1 teaspoon
Soda – 1 teaspoon
Vinegar (optional) – 1 teaspoon
For filling:
Ossetian or suluguni cheese – 0.5-0.8 kg
Egg – 1 pc.
Butter (optional) – to taste
Directions
Prepare food. The margarine should be left at room temperature to soften
Stir kefir, soda (can be extinguished with vinegar) and salt in a bowl.
Add flour, in the amount necessary so that the dough is not too steep, but not too soft.

Stir the dough on the table and cover with a warm bowl for 30 minutes
Then roll out the dough into a large thin layer.
Spread softened margarine over the dough.
Roll the dough into a roll and send to the cold for 1 hour.
For the filling, grate the Ossetian cheese or suluguni.
Add the egg. Stir the cheese and egg until smooth.
Then cut a small piece from the dough roll (about the size of a fist).
Roll out the roll so that the dough and margarine alternate horizontally (puff pastry is obtained).
Put the cheese filling in the middle of the cake. You can put a piece of butter.
Fold the edges of the dough on four sides and mold the envelope. Turn it over and roll it out slightly with a rolling pin. If there are air bubbles, you need to drive them out to the side with a rolling pin, and then pierce the dough with a needle or a sharp knife.

Preheat a cast-iron or other heavy-bottomed skillet. Put the cake with cheese in a dry frying pan. To cover with a lid. Bake (fry without oil) Ossetian khachapuri in a frying pan over medium heat until golden brown, first on one side for about 3 minutes.
Then turn over, cover again and bake khachapuri with cheese for another 3 minutes on the other side
Khachapuri in Ossetian are ready.
Bon Appetit!
Also Like
Comments for "Khachapuri in Ossetian"