Megrelian Khachapuri
by Editorial Staff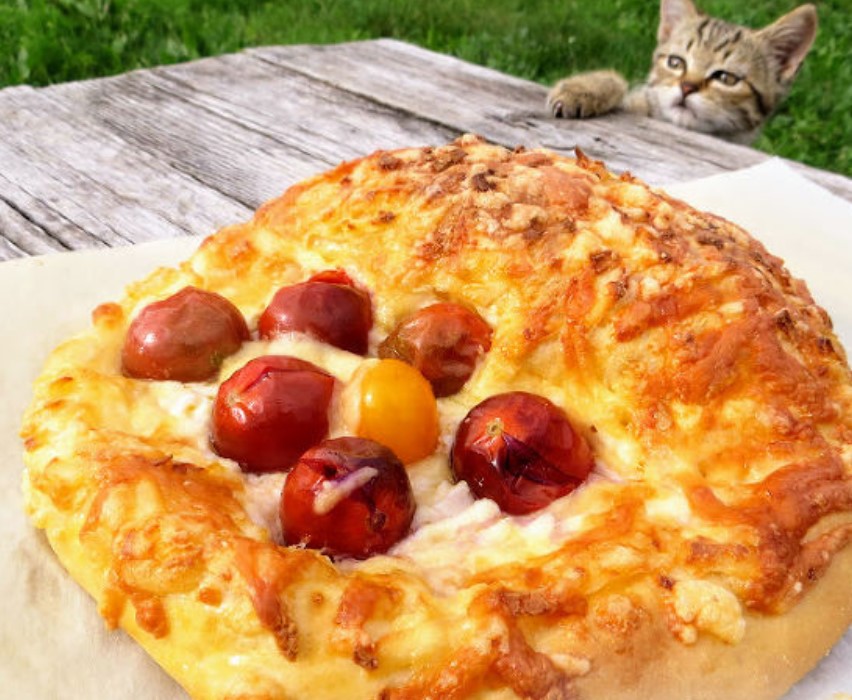 Delicious dough and filling – it turns out a pie! And if it's a cheese filling, then it's khachapuri! Well, when the cheese is inside and outside, you get the most cheese Megrelian khachapuri! Everything turned out very tasty!
Ingredients
Flour – 500 g
Dry yeast – 2 teaspoon
Sugar – 2 teaspoon
Salt – 1 teaspoon
Milk (warm) – 250 ml
Butter (soft) – 30 g
Cheese (two types) – 500 g
Eggs – 1 pc.
Yolk – 1 pc.
Cherry tomatoes to taste
Vegetable oil – for greasing tomatoes
Directions
We prepare products, today there are two types of cheese.

First of all, we activate dry yeast. Add sugar, a couple of tablespoons of total flour and yeast to warm milk. Mix well and let stand for 5 minutes.
The yeast came up with a "cap" – it means good, and have already begun to work.
Collect flour, salt, butter, one egg and a quick dough in a deep bowl.
We knead a soft, elastic dough (knead for 10 minutes).
Let the dough rise in a warm place. In 40 minutes, the dough doubles.
We crush slightly, without fanaticism, and divide into five equal parts. Roll the blanks into balls, cover with foil for 5 minutes.
During this time, rub the cheese on a coarse grater.
The dough is pliable, it is good to work with it. Roll out a small cake and put cheese in the center. There should be a lot of cheese – in volume, like a ball of dough.
We connect the edges, collecting them upwards, we close the seam well and carefully roll it into a cake (first we stretch it with our hands, then with a rolling pin). We transfer the khachapuri to the leaf and grease with egg yolk.
Preheat the oven to 200 degrees. Now sprinkle well with cheese on top and add a summer touch today. Put the oiled cherry tomatoes on a few khachapuri – they will bake and it will be even tastier!

Megrelian khachapuri will be baked for 15-20 minutes, it all depends on your oven. If rolled out carefully, without damaging the dough, then the khachapuri will puff well when baked.
A lot of cheese is good! Megrelian khachapuri turned out to be great!
Bon appetit!
Also Like
Comments for "Megrelian Khachapuri"