Imeretian Khachapuri
by Editorial Staff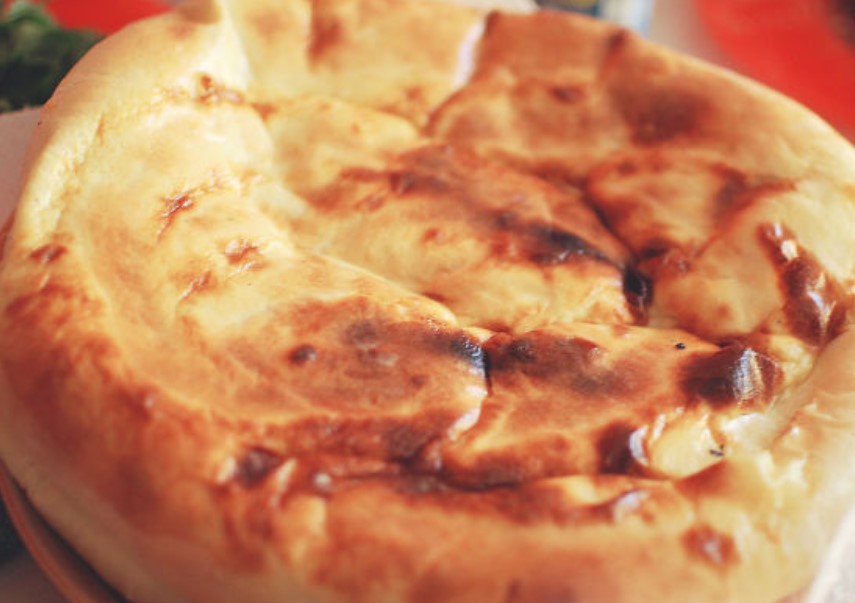 Khachapuri in Imeretian style, baked from yeast dough in the oven. In the baking process, khachapuri rises perfectly, gains color and exudes amazing smells. The house immediately becomes cozy and warm.
Cook: 1 hour 30 mins
Servings: 10
Ingredients
Yogurt – 500 g
Milk – 1 glass
Butter – 100 g
Eggs – 3 pcs. (for dough, filling and greasing khachapuri)
Flour – 1 kg
Dry yeast (for 1 kg of flour, according to the instructions on the package)
Cheese (ideally Imeretian, or Adyghe, suluguni, etc.)
Sour cream
Sugar
Salt
Directions
Without baking, nowhere. And you need to start doing the dough in advance – 2-3 hours in advance, because it is yeast. For the dough, you need yogurt, it is not in our latitudes, but there is ordinary unsweetened yogurt, which I used. He warmed the milk slightly, poured yeast into it (you need to look on the package, how much is needed for such an amount of flour), a pinch of sugar, a little bit of sunflower oil, sprinkled with flour – left to stand. After boiling, I poured them into a cup, where there was already yogurt, mixed, added 1 egg, butter (I should have melted it, but I'm so), a teaspoon of salt, then I began to gradually add flour and knead the dough. Well, so that it does not stick to the table and hands. Knead it – under the lid to rise. Oval once every half hour. Until it's time to sculpt. There should be air in the dough, so it should not be rolled at all. It should be kindly, like with a girl.
But before sculpting, you need a filling. Here, of course, I was lucky – my wife brought a large assortment of Georgian cheeses. But in the absence of a stamp, the suluguni available in supermarkets, as well as all sorts of Adyghe cheeses, will do. We mix everything that is in a heap, after grating it, and add an egg there for viscosity. That's the whole filling. I separated the pieces of dough by eye, flattened it with my hands, and put the filling in the middle, not sparing it. Like on a picture
Then he fastened it all, in the manner of a khinkali, especially not caring about beauty, turned it over and flattened it.

Then I gently rolled it out to the fineness, but so that the filling would not get out. There in the process it is very clear how not to do it. But, if possible, you need to be subtle. Otherwise, khachapuri can be the size of a loaf of bread.
Then the workpiece was coated with a mixture of eggs and sour cream. They even just needed the yolk from the egg, but I did not divide. I greased beautifully and sent this thing to the oven, preheated to 180 degrees. For 20 minutes – until golden brown. This is also clearly visible by eye. In general, khachapuri is baked in such special pans to make a round shape, but you can also simply on a baking sheet covered with baking paper. Something like this.
In the process, the khachapuri rises perfectly, picks up colors and exudes amazing smells. The house immediately becomes cozy and warm. I got 5 such khachapuri.
Bon appetit!
Also Like
Comments for "Imeretian Khachapuri"