Khachapuri with Meat
by Editorial Staff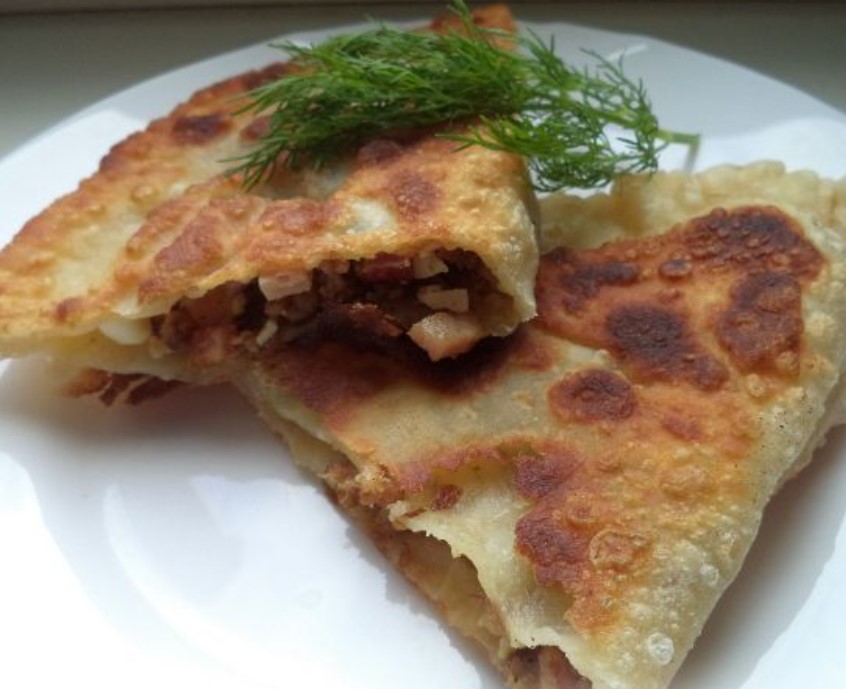 If you want to cook khachapuri with meat, this simple recipe will help you. The dough for khachapuri with meat, mixed with sour cream, is prepared quickly and easily. Add ham, onion and eggs to the filling for meat khachapuri, which will give it a special piquancy.
Cook: 1 hour 30 mins
Servings: 4
Ingredients
Dough for khachapuri with meat:
Flour – 2 cups
Sour cream – 200 g
Eggs – 1 pc.
Salt – 0.5 teaspoon
Vegetable oil (for frying) – 70 g (how much it will take)
For minced meat:
Beef – 300 g
Ham – 100 g
Eggs – 2 pcs.
Onions – 1 pc.
Milk – 0.5 cups
Pepper – on the tip of a knife (to taste)
Salt – 0.25 teaspoon (to taste)
Frying fat – 50 g
Directions
Products for khachapuri with meat in front of you.
Sift flour into a bowl. Add all other ingredients.

Stir with a spoon first
Knead a thin soft dough for khachapuri with meat from all the ingredients with your hands. Refrigerate for about 1 hour.
While the dough for khachapuri with meat is settling, wash the meat, cut into pieces, mince.
Pour eggs with cold water, put on fire, bring to a boil, boil hard-boiled over medium heat (10 minutes). Drain the boiling water, pour cold water over the eggs, cool.
Peel the onion, chop finely.
Peel and chop the eggs too.
Chop the ham.
Fry the onions in a greased frying pan until golden brown, stirring occasionally, over medium heat (about 3 minutes).
Add ham and meat to it. Fry over medium heat, stirring occasionally, for 8-10 minutes.
When the minced meat is well done, add chopped eggs, milk, salt, pepper to it. Mix well.
Cool the minced meat.
Roll the dough into a thick rope.
The tourniquet is cut into pieces weighing 70-80 g (the size of a chicken egg). Roll balls out of them.
Cut the balls into thin cakes. Put the cooked minced meat on the flat cakes.
Bend the cake in half, pinch. So form all the khachapuri.
Preheat a frying pan, pour 30 g of oil. Put khachapuri in hot oil. Fry the khachapuri with meat in oil in a skillet over medium heat, first on one side until golden brown (about 2-3 minutes).

And then turn over and fry the khachapuri with meat on the other side until golden brown (2-3 minutes).
So fry all the khachapuri, add oil as needed.
Khachapuri with meat is ready.
Bon Appetit!
Also Like
Comments for "Khachapuri with Meat"