Adjarian Khachapuri
by Editorial Staff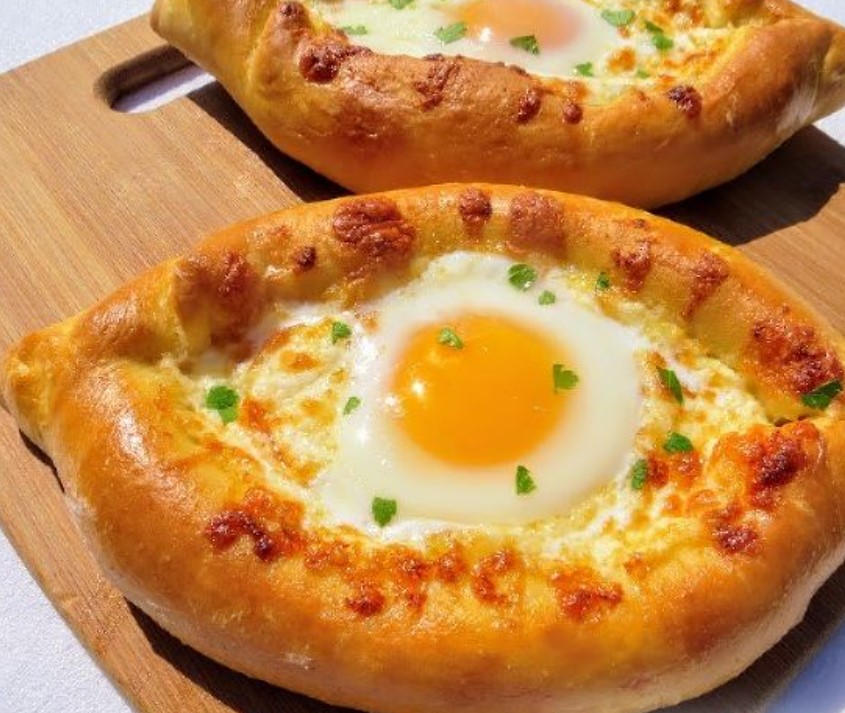 For a long time I walked around the Adjarian khachapuri recipe, did not dare. I tried it today – I absolutely love it! The dough is wonderful, the cooking process is interesting, and the taste cannot be conveyed, just a fairy tale! Caucasus, forgive me for dragging out this recipe for so long.) I lost a lot. The whole family appreciated the Adjarian khachapuri 5 points! It's easy to prepare, repeat to your health!
Ingredients
Milk (warm) – 125 ml
Water (warm) – 125 ml
Egg – 1 pc.
Vegetable oil – 2 tbsp
Flour – 400 g
Dry yeast – 7 g (1 small bag)
Sugar – 2 teaspoon
Salt – 1 teaspoon
For filling:
Mozzarella cheese (hard) – 200 g
Adyghe cheese – 250 g
Eggs – 4-5 pcs.
Butter – 100 g
Directions
We prepare products for the dough. Be sure to sift the flour. Water and milk should be warm.

Mix water and milk in a bowl. Add sugar, yeast and a couple of tablespoons of flour – this will be a dough. We put it in a warm place for 10 minutes.
The yeast has become more active, took a good "cap". Now we send the egg, vegetable oil, salt to the dough. We mix.
Gradually add all the flour. The dough will be sticky at first. It's okay, it should be so. We make an effort – knead the dough for 10 minutes.
After 10 minutes, the dough gathered well into a ball. It is still sticky, but no longer sticks to your hands.
Put the yeast dough into a bowl, cover with a lid (film), leave in a warm place and let it increase in volume. It will take 50-60 minutes.
After an hour we take out the dough and knead well. Even if it beeps, don't worry! He (the test) will only get better from this. Kneaded well – we remove for another hour in a warm place.
While the Adjarian-style khachapuri dough is suitable, let's start filling. Traditionally, Imeretian cheese is used for khachapuri, but today I took Adyghe cheese and hard mozzarella
Rub all the cheese on a coarse grater. Add butter (soft) and mix well. Chicken eggs wash well.
The dough fit perfectly. It smells airy and delicious! Crumple it slightly and weigh it to divide it into 5 equal parts.
We round off the blanks. I got 138 g each.
Roll out the balls into a thin round cake 3-4 mm thick.
Grease the opposite edges of the cakes with the filling (half a tablespoon).
Now carefully wrap the filled edges towards the center.
We pinch the edges. It turned out a boat!
We transfer the "boat" to a baking sheet, grease with an egg and put the filling in the middle.
By this time, the oven was warmed up to 220 degrees. We send Adjarian khachapuri to the oven and bake until slightly golden brown.
Five minutes before cooking (slightly golden color), we take it out of the oven. We make a depression in the center of the filling and pour in the raw egg

Put the Adjarian khachapuri back in the oven for a few minutes, until the egg grabs (the protein should turn white).
Adjarian Khachapuri ready! Better to have time to eat it hot before someone takes it away. :)) It turned out very tasty, I recommend everyone to cook
Bon appetit!
Also Like
Comments for "Adjarian Khachapuri"