Lazy Adjarian Сurd Khachapuri (in a Pan)
by Editorial Staff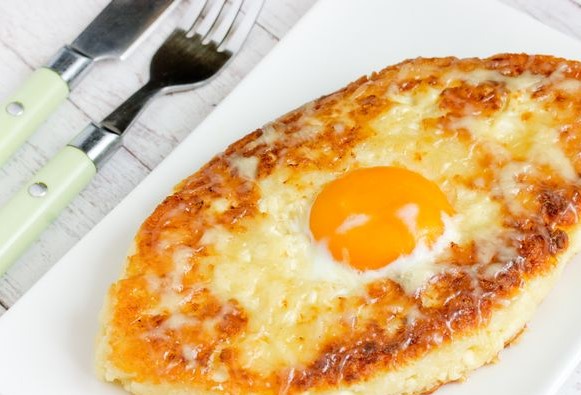 Lazy khachapuri is a great option for a full breakfast! A ruddy "boat" flatbread is being prepared from cottage cheese and cheese with an egg in a frying pan, to taste it is an unsweetened cheesecake, but in appearance – well, exactly Adjarian khachapuri. I recommend trying it!
Cook: 20 mins
Servings: 1
Ingredients
Cottage cheese – 150 g
Hard cheese – 50 g
Wheat flour – 35 g + for burning
Egg – 1 pc.
Salt to taste
Vegetable oil (for frying) – 1 tbsp
Directions
Transfer the curd to a bowl. Salt the curd and grind with a fork, breaking up large lumps.
Grate the cheese on a fine grater. Add most of the grated cheese (about 40 g) to the curd, setting aside a little to serve.

Break the egg and carefully separate the whites from the yolk. Add the egg white to the bowl of cottage cheese and cheese, and set the yolk aside. Stir in cottage cheese, cheese and protein thoroughly. Add flour.
Stir again and collect the resulting curd dough into a ball. Dust your hands with flour and shape the curd dough into a sharp-edged flatbread about 2 cm thick.

Heat some vegetable oil in a frying pan and put the curd-cheese "boat" in it. Fry the tortilla over low-medium heat for about 3 minutes or until golden brown on one side, then gently turn over.
Immediately, using a teaspoon, cut around, the non-perforating indentation in the middle of the cake, the size of an egg yolk. Place the egg yolk that we used for the test into this well.
Sprinkle the remaining grated cheese on the tortillas (10 g). Cover the skillet with a lid and bring the khachapuri until golden brown over low heat (3 minutes). The cheese on the surface should melt, and the yolk should harden a little.

Lazy curd khachapuri is ready. Serve lazy khachapuri to the table immediately after cooking.
Enjoy your meal!
Also Like
Comments for "Lazy Adjarian Сurd Khachapuri (in a Pan)"