Lazy Khachapuri on Kefir
by Editorial Staff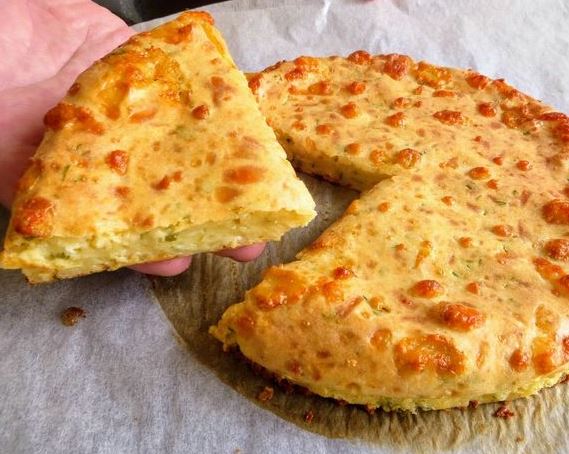 A simple recipe. We cook two cheesecakes at once – in a pan and in the oven, the dough is great for both frying and baking. At home, this recipe is called "the laziest khachapuri". Cook to your health!
Ingredients
Eggs – 4 pcs.
Grated cheese – 200 g
Kefir – 5 tbsp
Flour – 100 g (2/3 cup 250 ml)
Baking powder – 1/2 teaspoon
Parsley to taste
Salt to taste
Vegetable oil – for frying
Directions
First of all, we prepare the dough, the process is simple and quick. So turn on the oven, let it heat up.
We combine eggs, salt, pepper, parsley, and kefir (sour cream can be used). Mix well.

Rub the cheese on a coarse grater and add to the dough. We mix.
Add baking powder to flour and mix.
Add flour to the dough in parts, stirring well each time.
We send half of the resulting dough to a prepared baking sheet (I have it covered with parchment, and I put out a form without a bottom so that the cake is beautiful). We send the cake to a preheated oven to bake at a temperature of 180 degrees, for 10 minutes.

We send the second part of the dough to a greased frying pan, fry under the lid.
A golden-brown crust is required. Using two scoops, we try to turn it over – fry for 3-4 minutes on each side

The fastest way to cook khachapuri is in a pan. Both cakes are beautiful, fragrant, and incredibly tasty!
Oven-baked flatbread is no less appetizing. Prepare both options and choose the best for yourself!
Also Like
Comments for "Lazy Khachapuri on Kefir"