Chicken and Pork Lula Kebab
by Editorial Staff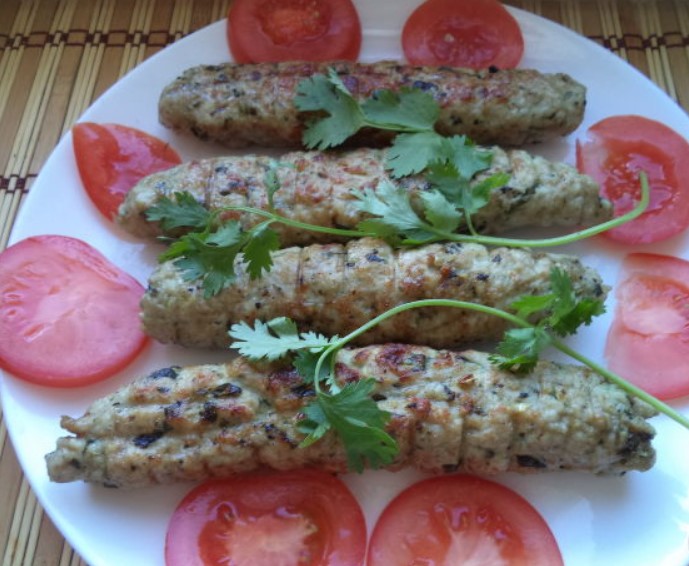 The original recipe is pork and chicken lula kebab. Of course, traditionally this oriental dish is made from lamb, but the pork and chicken kebab cooked according to this recipe differs from the traditional one in its particularly delicate taste and is quite worthy to take its place on your table.
Cook: 3 hours
Servings: 6
Ingredients
Chicken fillet – 500 g
Fatty pork – 500 g
Bulb onions – 2 pcs.
Tomatoes – 2 pcs.
Vinegar 3% – 25 ml
Vegetable oil – 2 tbsp
Parsley greens – 0.5 bunch
Cilantro greens – 0.5 bunch
Salt – 1 tbsp (to taste)
Ground black pepper – 0.25 teaspoon (to taste)
Directions
Products according to the recipe for pork and chicken kebab.
The meat is washed, cut into pieces. The onions are peeled, washed, cut into pieces.

The washed pork, chicken fillet and pre-peeled onions are passed through a meat grinder.
Greens are washed, crushed.
Greens are added to the meat.
The meat is mixed with chopped parsley and cilantro.
Vinegar, salt, pepper are added to the resulting mixture and everything is mixed and the minced meat is well beaten. The mass is placed in a cold place and kept for 1-2 hours.
After that, small sausages are formed on skewers.
The grate is greased with oil. The sausages are placed on a wire rack.

The sausages are fried on a rack greased with vegetable oil over hot coals until cooked.
Chicken and pork lula kebab is ready.
Ready-made pork and chicken kebab is laid out on a dish, decorated with sliced ​​tomato slices and served to the table.

Enjoy your meal!
Also Like
Comments for "Chicken and Pork Lula Kebab"