Pork Kebab (Express Marinade for Kebab)
by Editorial Staff
Soft, juicy and delicious pork kebab in just 30 minutes. No vinegar or mineral water. Marinate the meat with onions and kiwi. Kiwi perfectly softens meat, the main thing is not to overexpose it, otherwise, you can get a paste. There will be no obvious taste of kiwi, but there will be a pleasant light sourness and soft kebab.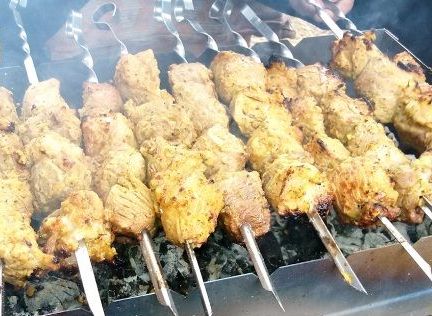 Servings: 10
Ingredients
Pork (ham) – 2 kg
Bulb onions – 2pcs.
Kiwi – 2pcs.
Spices to taste
Salt to taste
Directions
Cut the meat for the kebab into medium pieces (I use a pork leg).
Rub onions and kiwi on a coarse grater (or grind in a blender). Add onion and kiwi marinade to the meat.
Add your favourite spices (I use a shashlik mixture) and salt to taste.
Mix and leave the pork in the onion marinade with kiwi for 30-40 minutes for marinating, you can do it for a maximum of 60 minutes, otherwise, the meat will simply turn into pate.
We string pieces of meat on skewers.
Cooking pork skewers on charcoal, turning the skewers after about 20-30 seconds, until the desired degree of roasting.
Also Like
Comments for "Pork Kebab (Express Marinade for Kebab)"