Lula Kebab
by Editorial Staff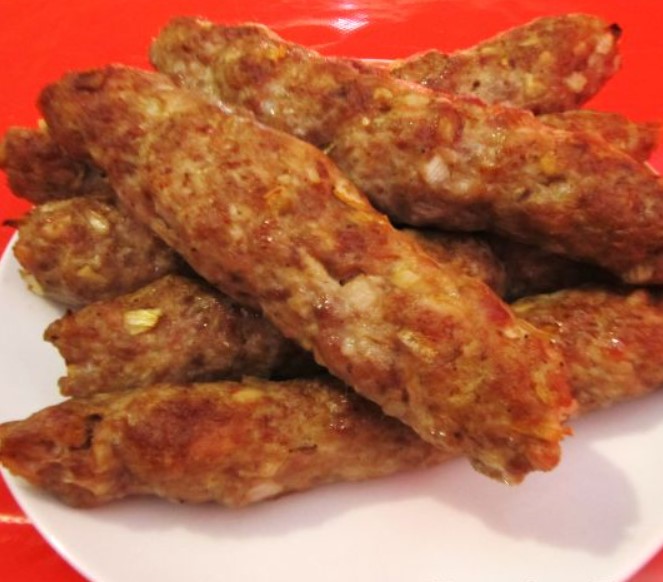 Traditionally, lula kebab is made from young lamb, but it is not always possible to purchase it. You can cook this dish from other types of meat, the main thing is to take into account the peculiarities of the preparation of kebab. For example, to make the kebabs juicy, chop the onion finely.
Ingredients
500 g pork neck
500 g beef neck
250 g lard
150 g chicken fillet
2 onions
salt to taste
pepper to taste
0.5 teaspoon cumin (cumin)
Directions
Cut all meat into cubes and grind in a meat grinder.

Finely chop the onion (but never grind it in a meat grinder!)
Add the onion to the minced meat, add spices there. Knead the minced meat for at least 10 minutes (please be patient, but this is extremely necessary), but do not knock out, but simply stir (it is better to do this with gloves, since the minced meat is very fatty). Place in the refrigerator for a couple of hours.
Turn on the oven, preheat to the maximum temperature so that it warms up. Grease a rectangular baking sheet with vegetable oil. Take one wooden skewer and 150 g of minced meat each, form a cutlet from the minced meat, string it on the skewer and carefully distribute it over the skewer so that the dia of the "sausage" is about 3 cm. Put the kebab on an oiled baking sheet so that the skewers lie on the sides, and the meat only slightly touched the bottom.

Place the baking sheet in a preheated oven, fry the kebab for about 15-17 minutes. You can serve this dish either on skewers or without them.
Good appetit!
Also Like
Comments for "Lula Kebab"