Turkey Lula Kebab
by Editorial Staff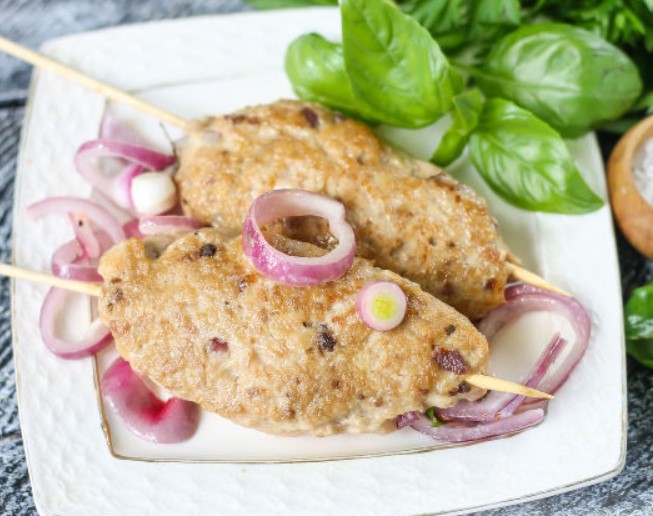 Turkey lula kebab, cooked in the oven – fragrant, juicy, ruddy. Lula kebab is prepared from fillet, finely chopped with a knife.
Cook: 1 hour
Servings: 2
Ingredients
Turkey fillet – 400 g
Bulb onions – 1 pc.
Chicken egg – 1 pc.
Vegetable oil – 10 ml
Salt – 3 pinches
Ground black pepper – 3 pinches
For filling (optional):
Pickled onions
Fresh greens
Directions
Prepare the required ingredients. Rinse the turkey breast, cut it into several pieces, removing the veins and films. Soak wooden skewers in water (so that they do not burn in the oven).
Chop the fillet with a knife into minced meat (large or small – it's up to you). Finely chop the peeled and washed onion, add it to the minced meat.

Beat in the same egg, pour in butter, add salt and ground black pepper. Mix all the ingredients of the minced meat thoroughly and beat it off by taking it in the palm of your hand and throwing it back into the container. Try to do this without splashing. In the process of beating, excess air will be removed from the minced meat and the minced meat will "adhere" to each other more strongly. Place the minced turkey fillet in the refrigerator for 20 minutes.
Form large cutlets from cold minced meat, shape them into an oval shape and place them on damp wooden skewers.
Preheat the oven to 200 degrees. Place the minced meat skewers in a baking dish and place in the oven. Bake the turkey kebab in the oven for 25-30 minutes, turning from time to time.

Ready-made turkey kebab is well served with pickled onions, which emphasize the taste of the meat, and with herbs. Good appetit!
Also Like
Comments for "Turkey Lula Kebab"