Fish Kebab
by Editorial Staff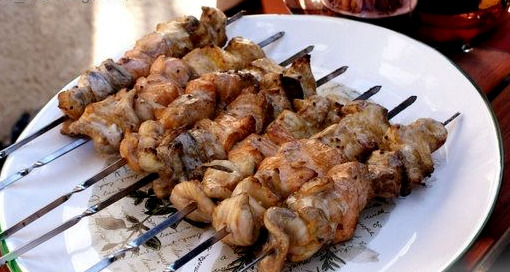 Fish kebab is good during Lent when it is not recommended to eat meatballs. Fish kebab is pleasant in that you can use different types of fish on one skewer.
Ingredients
Fish: salmon (salmon), sturgeon, catfish – 1.2 kg (400 g each)
Paprika (Hungarian) – to taste
Mustard (seeds) – to taste
Dry wine – 100 g
Olive oil – 100 g
Salt
How to make fish kebab:
Directions
While the coals are on fire, take sturgeon, salmon, and catfish, in approximately equal parts, a pound (400 g) each. It is better to take tesha from the catfish – the fattest part of the abdomen. Cut the fish into cubes.

Prepare fish kebab marinade. For the marinade, you should do with small forces – fresh fish does not require strong odors. It is very good to use sweet Hungarian paprika and mustard seeds. Lightly salt the fish, add paprika and mustard. Vinegar should never be used. Instead, pour in 100 grams of sour dry wine, the cheapest and trashy (Italian Pinot Grigio will be just right). Add 100 g of real olive oil – California or Australian. Stir everything thoroughly and leave to marinate at room temperature for 20 minutes, no more than half an hour.

After 20 minutes, while the coals are burning to the desired condition, you can string the pieces of fish on skewers.
Place the skewers on the prepared grill. Sturgeon and catfish give a lot of fat over the fire. Care must be taken not to ignite the coals. It is good to use a water spray to extinguish occasional flames. Unlike meat, fish shashlik cooks quickly, but you need to turn it over more often.
In 10 minutes everything is ready. You can serve shish kebab with white rice boiled in aromatic herbs. But if you want to reduce the calorie content, you should serve fish kebabs with fruits, for example, as in our case, with guava fruits and with slices of Hawaiian pineapple. Open a bottle of cold fume blanc.
Enjoy your meal!
Also Like
Comments for "Fish Kebab"