Khorovats (Armenian Kebab) from Beef
by Editorial Staff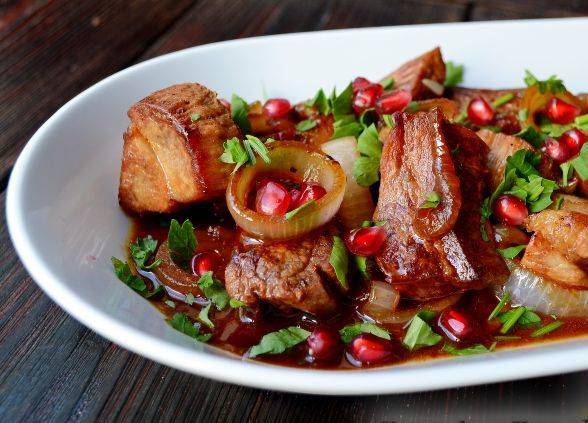 Armenian kebab, called khorovats, is interesting because it is not marinated beforehand. Skewers in a skillet will be soft thanks to good roasting in a thick-bottomed pan, as well as pomegranate juice, which makes the meat juicy and softens its fibres.
Ingredients
Young beef or veal (tenderloin) – 0.5 kg
Ripe pomegranate – 1 pc. (300 g)
White onion – 2 pcs. (200 g)
Butter – 100 g
Salt – 1 teaspoon
Ground black pepper – 0.5 teaspoon
Parsley greens – 1 bunch
Cilantro greens to taste
Directions
Rinse the meat thoroughly under running water, dry and cut into pieces of equal size. Melt the butter in a heavy-bottomed skillet and place the meat in the skillet.
Salt each piece of meat with coarse salt. Sprinkle with freshly ground black pepper. Fry the meat in a skillet over low heat on all sides until tender, about 40 minutes (time depends on the hardness of the meat and the size of the pieces).

Add the sliced ​​onion rings to the skillet 15 minutes before turning off. Fry the onions with the meat until soft and golden brown.
Make pomegranate juice. I use a blender and sieve for this. Peel the pomegranate and place the beans in a blender. Set a small portion of the beans aside until serving.

Beat the pomegranate seeds in a blender, then strain the juice through a sieve. Pour pomegranate juice into a skillet with meat, stir.
Leave the skewers in the skillet for 5-8 minutes to soak the meat in the pomegranate juice.
Serve the beef khorovats (Armenian shish kebab) immediately on the table, sprinkle with chopped parsley and cilantro and the pomegranate seeds set aside earlier.
Serve baked (including grilled or grilled) vegetables – eggplants, tomatoes, bell peppers as a side dish for a kebab.
Bon Appetit!
Also Like
Comments for "Khorovats (Armenian Kebab) from Beef"