Kufta in Armenian
by Editorial Staff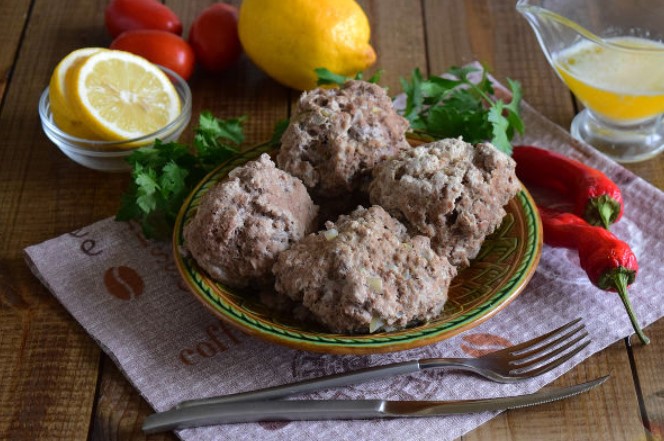 Kufta – This meat dish (in fact, giant meatballs) is very common in the Caucasus. The recipe for kyufta is quite ancient and every nation of the Middle East can boast of its own cooking option. Today we invite you to cook a kufta in Armenian with us.
Ingredients
Beef (pulp) – 1 kg
Bulb onions – 1 pc.
Egg – 2 pcs.
Flour – 50 g
Salt to taste
Black pepper (in our peas) – to taste
Milk – 200 ml
Butter – 80 g (for serving)
Directions
We will prepare products for kyufta in Armenian. Wash the beef pulp under running cold water. Remove the husk from the onion. Milk can be replaced with water (used to soften minced meat). In some versions of kyufta in Armenian, cognac (20 ml) is added, we decided not to use this ingredient.
How to cook kyufta in Armenian:
Let's use a meat grinder and grind the meat. It is very convenient to use a kitchen processor for this. If you have a manual device at hand, then the meat should be twisted 3-4 times.
We used peppercorns in the preparation, so we will crush it in a wooden mortar. You can use already ground. Let's go to sleep with meat. Let's salt.
Pour the whole portion of milk (or, as stated above, water) into a bowl with minced meat. We'll drive eggs there. Let's add flour. Mix until smooth. The mass is quite viscous.

Chop the onion finely.
Add to the minced meat. Let's mix.
Divide the resulting meat mass into approximately four parts. We blind big meat balls with wet hands. Bring the water to a boil in a convenient saucepan. With a large spoon, carefully lower a huge meat piece into boiling water. Cooking kyufta in Armenian should be 30 minutes

Put the finished kyufta on a plate. Melt the butter over low heat. Let's pour oil on the kyufta in Armenian.
Enjoy your meal!
Also Like
Comments for "Kufta in Armenian"