Armenian Bread Matnakash
by Editorial Staff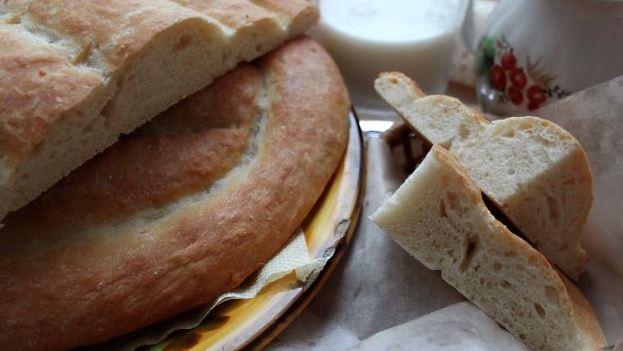 Incredibly delicious Armenian matnakash bread is easy to bake at home. Bread is prepared from aged yeast dough, due to which it turns out with an appetizing golden-brown crust, characteristic pattern, and soft crumb.
Ingredients
Wheat flour (premium grade) – 500 g
Dry yeast (instant, for bread) – 6 g
Sugar – 6 g
Salt – 18 g
Water (boiled) – 270 ml
Vegetable oil – 30 ml
Directions
Sift the flour into a deep bowl. Add dry yeast, salt, granulated sugar – mix.

Pour in warm water, knead the dough for at least 15 minutes. (the dough is kneaded by hand). The dough should be sticky but stringy. We leave in a bowl, covered with plastic, for an hour.
After an hour, the dough will work well, doubling in size. We knead it again with our hands soaked in cold water. Cover with foil again and leave in a warm place for 30 minutes.
We take out the dough from the bowl, divide it into two parts. On a baking sheet well oiled with vegetable oil, stretch the cakes, turn them over and stretch again. With your fingers, we make grooves in a circle and in the center. We leave for 15 minutes under the film – come up.
We re-crush the drawing on a suitable workpiece. Lubricate the cakes liberally with slightly warm boiled water with a brush.
We bake matnakash cakes in an oven preheated to 220 degrees, put them on a level below average. Baking time – 17 minutes. Be sure to put a second baking sheet with hot water under the baking sheet. Cool the bread before serving.

Serving Armenian matnakash to the table! Thick cakes can be cut, or you can simply serve the whole matnakash and break off pieces of bread while eating.
Also Like
Comments for "Armenian Bread Matnakash"