Okroshka in Armenian
by Editorial Staff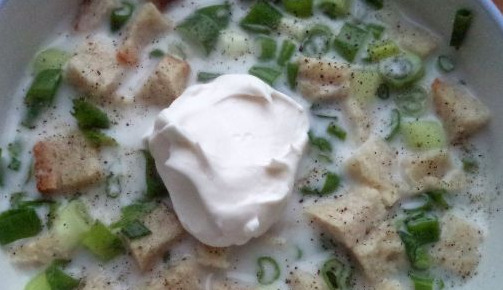 In the summer, a simple okroshka helps out. A minimum of cooking and food. Prepares quickly, eats even faster. For spice, you can put 1 tablespoon. a spoonful of grated radish and grated horseradish.
Cook: 10 minutes
Servings: 2
Ingredients
Kefir (or yogurt) – 0.5 l
Rye bread (or wheat) – 200 g
Green onions – 150 g
Sour cream – 100 g (to taste)
Salt – 1 teaspoon (to taste)
Ground black pepper – 0.25 teaspoon (to taste)
How to cook okroshka in Armenian:
Directions
Cut the bread into small pieces.
Wash green onions, chop.
Add chopped green onions to the bread.

Mix kefir with cold boiled water.
Salt the products and pour in kefir diluted with boiled water (1: 1).
Okroshka on the kefir in Armenian is ready. Serve immediately.
Before serving, add sour cream, sprinkle with ground black pepper.
Enjoy your meal!
Also Like
Comments for "Okroshka in Armenian"