Okroshka Meat
by Editorial Staff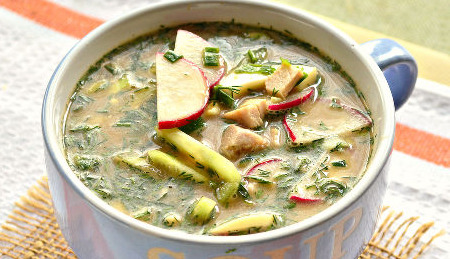 Most often, okroshka is prepared with sausage, but you can make okroshka with boiled meat. And also, as usual, with cucumbers, radishes, herbs, and eggs.
Ingredients
Kvass – 800 ml
Meat (any lean) – 150 g
Fresh cucumber – 1 pc.
Radish – 4 pcs.
Eggs – 2 pcs.
Fresh dill – 4 branches
Green onions – 0.5 bunch
Sour cream – 2 tbsp
Salt to taste
Ground black pepper – to taste
Directions
We take the necessary ingredients for the meat okroshka. The meat must be boiled. You also need to boil hard-boiled eggs. Rinse and dry cucumbers, radishes, and fresh herbs.
Peel the cucumbers for okroshka and cut them into strips.
We cut off the tails from the radish and then cut them into circles or semicircles.
Cut the boiled eggs into halves.
Cut the boiled meat into cubes.
Combine the chopped ingredients in a bowl. Add chopped fresh dill to them.

Chop the green onion, put it in a separate bowl, add salt and grind the onion and salt with a crush to make the juice stand out. Then add green onions to all other ingredients.
Fill okroshka ingredients with cold kvass.
Salt and pepper okroshka to taste. Add sour cream. Stir the meat okroshka.
Enjoy your meal!
Also Like
Comments for "Okroshka Meat"