Okroshka with Fried Meat
by Editorial Staff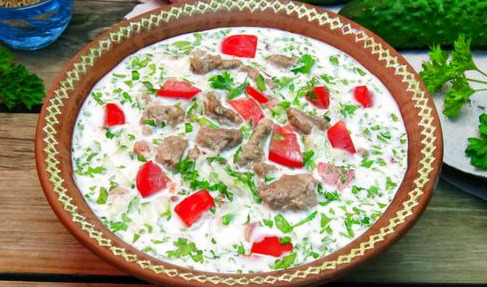 Recipe for tasty and spicy Crimean Tatar okroshka on kefir with fried meat. Okroshka successfully combines fried beef, tomatoes, cucumbers, coriander, parsley, and garlic. Okroshka turns out to be thick, nourishing, and perfectly refreshes in hot weather.
Servings: 4
Ingredients
Kefir – 900 ml
Beef (pulp) – 300 g
Tomatoes – 320 g
Cucumbers – 280 g
Cilantro – 10-15 g
Parsley – 20 g
Garlic – 1 clove
Ground black pepper – 0.5 teaspoon
Zira – 0.5 teaspoon
Salt to taste
Directions
Cut the beef into very thin strips about 0.5 cm wide. Salt the meat, add black pepper, and chopped cumin.
Mix everything thoroughly and leave for 15 minutes.
Preheat the non-stick skillet well and place the meat in a dry skillet (no oil).
Fry the meat over high heat for about 3-4 minutes until light golden brown. Put the fried meat on a plate to cool to room temperature.

Cut the tomatoes into cubes.
Rub the cucumbers on a coarse grater.
Peel and rub the garlic on a fine grater.
Remove the stems from parsley and cilantro, and finely chop the leaves.
Put beef, cucumbers, tomatoes, herbs, and garlic in a saucepan.
We fill everything with kefir.

Stir, salt to taste.
Enjoy your meal!
Also Like
Comments for "Okroshka with Fried Meat"